3M™ All Purpose Cleaner and Degreaser quickly and easily cuts through dirt and grime to clean exterior and interior surfaces. This product is ideal for cleaning vinyl, cloth and carpet cleaning. It is safe for paint shops because it contains no silicone. The cleaner mixes with water through a 3M™ Diluter.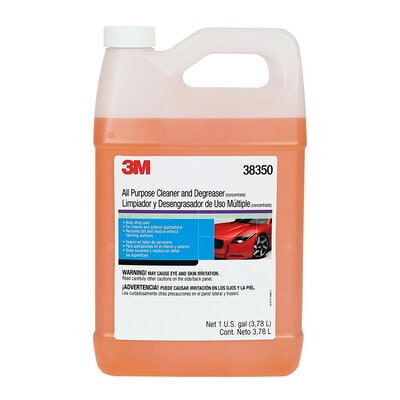 Works for both exterior and interior cleaning
Effective Cleaning for All Over Your Car
3M™ All Purpose Cleaner and Degreaser is a heavy duty concentrate designed for both
interior and exterior vehicle cleaning applications
(PDF, 139.44 Kb). It cleans dirt stains and soils from carpets, fabric and leather upholstery. This concentrated cleaner removes oil, grease, and other tough soils from vehicle engines, tires, wheels, and other heavily soiled exterior surfaces. It is very effective for removing the stubborn residue of splattered bugs on vehicles. 3M™ All Purpose Cleaner and Degreaser also cleans and removes soils and most stains from carpet, fabric upholstery, vinyl, leather, and other interior vehicle surfaces.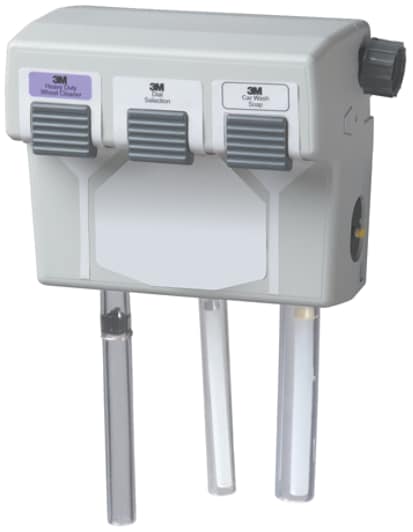 Consider using a 3M™ Diluter for optimal mixing - PN 37721 shown (Sold separately)
Formulated for Easy Cleaning
Apply 3M™ All Purpose Cleaner and Degreaser diluted 15:1 to degrease door jambs and pre-spot carpets. Use to clean the engine and engine compartment (lightly), tires, wheels, wheel wells, rocker panels, door and trunk jams, etc. For lighter duty work, a dilution of 30:1 is suitable for general purpose interior cleaning.
Custom Mix Your Cleaning Solution
Use with a 3M™ Diluter to achieve the appropriate mix based on the solution needed for effective cleaning and degreasing.