Translucent, abrasion resistant backing provides long wear life and will outwear most PTFE tapes in sliding applications
Thin profile of UHMW polyethylene backing reduces and helps eliminate noise and vibration in applications requiring a thinner tape
Low coefficient of friction for applications requiring slick surface
High-tack acrylic adhesive provides strong initial bond for fast results and less down time
Excellent adhesion to many painted metal and plastic surfaces
Liner ideal for fabrication and die cutting into various lengths and shapes
Our 3M™ Squeak Reduction Tape 9325 is a thin, transparent UHMW polyethylene film tape with an acrylic adhesive. It is commonly used to control squeaks and rattles due to vibration or wear of metal and plastic parts. 3M™ Squeak Reduction Tape 9325 is a thinner version of our 3M™ Squeak Reduction Tape 5430.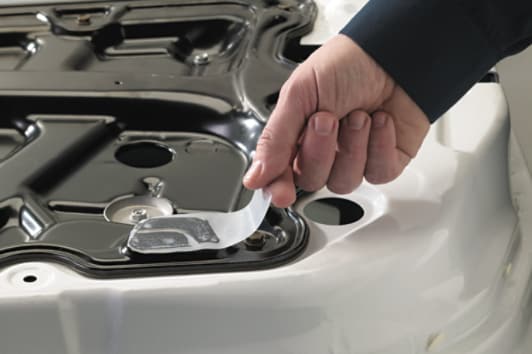 Provides a "slip plane" effect between incompatible surfaces to help reduce squeaks and rattles
Recommended Applications
Noise reduction on automotive instrument panels and interiors
Noise reduction between rim fascia and painted metal
Noise reduction on doors
Help protect plastic and metal chutes, guide rails and containers from wear
Industrial sliding or wear applications
The Science Behind Our Tape
The effectiveness of
3M™ Squeak Reduction Tape 9325
lies in its Ultra-High Molecular Weight polyethylene (UHMW-PE) backing. UHMW-PE is a thermoplastic that has a unique combination of properties, such as exceptional hardness and low surface energy. The ultra-high molecular weight of this tape significantly reduces friction to create an effective solution for anti-stick and easy-release requirements. The abrasion resistance of UHMW-PE is greater than PTFE and increases as the molecular weight increases.
The extraordinary durability and versatility of UHMW-PE is used by designers and engineers in many industries worldwide. UHMW-PE based products offer a host of exceptional attributes that include high abrasion resistance, low coefficient of friction and one of the highest impact strength ratings of any thermoplastic. These attributes make them ideal for tough impact wear or sliding applications. The low coefficient of friction characteristic is surpassed only by PTFE; however, UHMW-PE tape has superior abrasion resistance. Our exceptional science and engineering of products provide long-lasting performance and successful solutions.