3M™ Wheel Weight Surface Prep is a self-contained cleaning system available in a 16 ounce spray bottle, and includes a 3M™ Scotch-Brite™ Cleaning Pad for more difficult to clean wheels.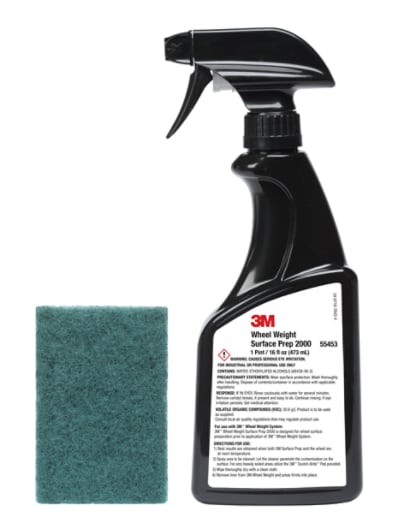 Cleans and preps wheels for attaching 3M Wheel Weights
Effective Cleaning for Long-Term Adhesion
Improve the adhesion of wheel weights by cleaning the wheel surface with 3M™ Wheel Weight Surface Prep prior to installation. Our specialty cleaning product helps remove the dirt, grime and residue that could cause adhesion problems later. Rely on this deep-cleaning formula to penetrate dirt for effective and thorough removal. Our spray bottle makes it easy to apply a targeted application of cleaner. Each bottle of spray is accompanied by a 3M™ Scotch-Brite™ pad for removing more difficult to clean contaminants.
Directions for Use:
Contamination from dust or fluids, such as a tire lube, will adversely affect tape performance. Before the 3M™ Wheel Weight can be applied, the application area of the wheel must be cleaned using 3M™ Wheel Weight Surface Prep or another equivalent cleaner.
1. Best results are obtained when both 3M™ Wheel Weight Surface Prep and the wheel are at room temperature.
2. Spray the wheel rim surface with the solution and wait for a moment before wiping the wheel to allow the cleaner time to penetrate and loosen the grease or dirt.
3. Use the supplied 3M™ Scotch-Brite™ pad to loosen any remaining difficult to remove dirt.
4. After the wheel rim has been sprayed and scrubbed, wipe away the residue with a clean cloth.
5. Remove the liner from the cut 3M Wheel Weight material, being careful not to touch or contaminate the adhesive. Liner removal should immediately precede weight placement to minimize the potential of contaminating the uncovered adhesive surface.


Learn More About the 3M™ Wheel Weight System
(PDF, 3.97 Mb)
Lead-Free Balancing Weights
The 3M™ Wheel Weight System combines conformable wheel balancing material and industry-leading 3M™ Automotive Attachment Tape to provide an all-in-one, securely attached wheel weight balancing system. Designed to have less impact on the environment than industry standard lead weights, the 3M™ Wheel Weight System is a proprietary product with unique properties built to meet our customers' ever-increasing needs for lead-free, quality products. The 3M Wheel Weight System consists of a unique, flexible and conformable material available in an easy-to-use, self-dispensing package used with a stand and cutting device.
3M Science Eliminates a Source of Lead Contamination
According to the EPA, approximately 1.6 million pounds of lead wheel weights are lost in the United States when they fall off during normal driving conditions. These weights can enter our environment in a variety of ways, including being washed into storm sewers or gathered during street cleaning and disposed of in landfills. A growing number of jurisdictions are introducing and passing legislation that bans the use of lead wheel weights. Our lead-free, composite material provides a more environmentally friendly alternative without sacrificing performance. In addition to environmental benefits, our wheel weights also resist the corrosion that is common with lead weights, which enhances overall tire appearance.