3M™ Replacement Ruler RR4023/4015 (PN99431) is a genuine replacement part for use on the 3M™ Wheel Weight Universal Cutting Tool. This accessory replacement part is from the 3M™ Wheel Weight System.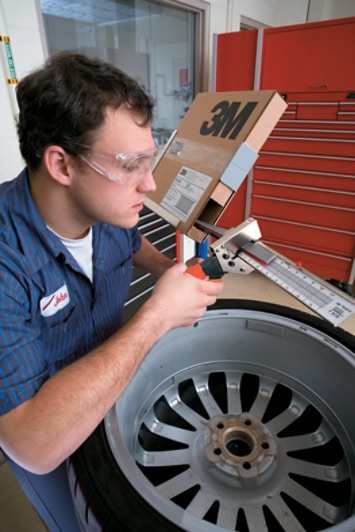 Designed to be cut to weight
Accurate Weight Measurements Every Time
3M™ Replacement Ruler is designed to help automotive technicians measure exact lengths and weights of 3M™ Wheel Weight material. Our easy-to-use ruler measures weights for precision wheel balancing. Choose the ruler you need based on the size of 3M™ Wheel Weight Material you are using.
Other Ruler options include:
3M™ Replacement Ruler part number 55404 for measuring wheel weight material part number 99473
3M™ Replacement Ruler part number 55418 for measuring wheel weight material part number 55409
3M™ Replacement Ruler part number 61565 for measuring wheel weight material part number 61403
Learn More About the 3M™ Wheel Weight System
(PDF, 3.98 Mb)
Cut-to-Weight Wheel Weights with Sustainability in Mind
Our wheel weights are made from a non-lead composite material available in an easy-to-use, self-dispensing package used with a stand and cutting device. The wheel weight system combines conformable cut-to-weight wheel balancing material and industry-leading 3M™ Automotive Attachment Tape. Designed to have less impact on the environment than industry standard lead weights, the 3M™ Wheel Weight System is a proprietary product with unique properties built to meet our customers' ever-increasing needs for lead-free, quality products.
3M Science Does Its Part to Help Eliminate a Source of Lead Contamination
According to the EPA, approximately 1.6 million pounds of lead wheel weights are lost in the United States when they fall off during normal driving conditions. These weights can enter our environment in a variety of ways, including being washed into storm sewers or gathered during street cleaning or disposed of in landfills. A growing number of jurisdictions are introducing and passing legislation that bans the use of lead wheel weights. Our lead-free, composite material provides a more environmentally friendly alternative without sacrificing performance. In addition to environmental benefits, our wheel weights also resist the corrosion that is common with lead weights, which enhances overall tire appearance.
Better Balancing with Reduced Inventory Costs
Our 3M™ Wheel Weight material is provided as a roll designed to be cut to precise weight requirements, resulting in precision balanced wheels for improved ride quality and comfort. The 3M™ Wheel Weight System eliminates the need to inventory individual part numbers, saving costs and eliminating the confusion of stocking dozens of weights. The efficiency of the 3M system can help increase auto technician productivity.
Installation of Wheel Weights is Quick and Simple
The self-dispensing package of wheel weight material fits on the cutting stand and is easily cut using the attached cutting tool. Simply cut the amount of wheel weight needed for a specific installation. The weights are attached to the wheel using 3M™ Attachment Tape technology for dependable, long-term performance. This same adhesive is used by both original equipment manufacturers (OEM) and aftermarket companies.