Designed specifically for wet sanding
Rubber construction adds flex and durability
Handle tips feature rubber-coated stoppers to protect vehicle surfaces
Tray fits into bucket for tool storage and drying
Large 3M logo adds brand power to shop floor
Our 3M™ Wetordry™ Bucket is designed specifically for wet sanding. This durable rubber bucket provides added flexibility vs. plastic buckets, helping minimize cracking or breakage. Rubber coating at the tips of the metal handle helps protect painted surfaces. Each 3-gallon wet sanding bucket features a tray that fits inside for storing tools such as 3M™ Wetordry™ abrasives, squeegees and blocks.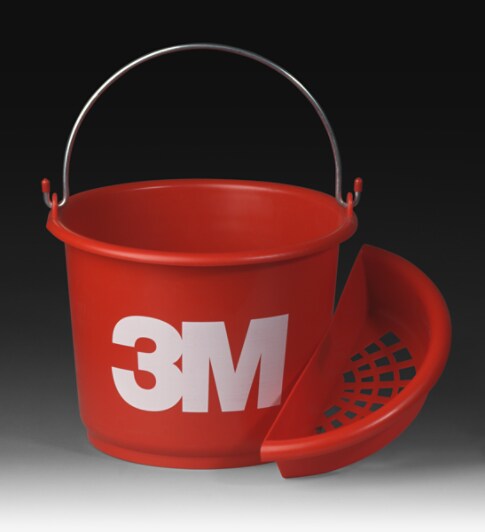 Flexible rubber resists cracking or breakage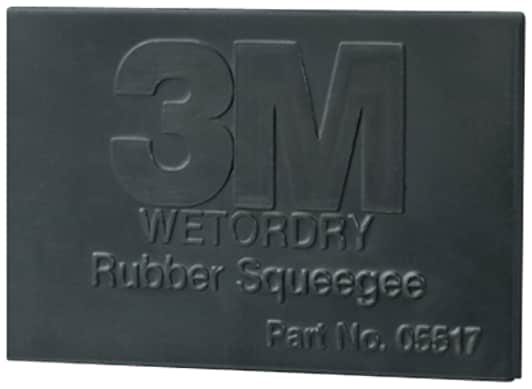 3M™ Wetordry™ Rubber Squeegee (PN 05517) is among the accessories to use with the bucket
A Durable Bucket, Wet or Dry
Fitting in perfectly with our range of Wetordry™ abrasives and hand tools for wet sanding, our 3M™ Wetordry™ Bucket is built for long life under tough conditions, wet or dry. This durable bucket is made from flexible rubber that resists cracking or breakage and holds up well when exposed to water and swarf. The metal handle is easy to grasp and features rubber coated tips that help prevent scratches in case of accidental contact with painted vehicle surfaces. A semi-circular tray fits over the lip of the bucket and conveniently holds tools, increasing organization and productivity. Its mesh bottom is ideal for drip-drying tools and other wet sanding materials, keeping moisture off of the shop floor.
The 3M™ Wetordry™ Bucket is designed for use with our Wetordry™ squeegees, paper abrasives and hand sanding blocks (all sold separately). Its distinctive red color and large 3M logo add the power of a worldwide brand to your shop floor. Without saying a word, you can communicate your commitment to the finest collision repair products to employees and customers.
Better Sanding from 3M
3M designs the latest scientific developments into our wet sanding products, and our Wetordry™ Bucket goes hand in hand. From its flexible rubber construction to its convenient interior tray to its powerful branding, It's another way that 3M applies science to life — and adds productivity and overall excellence to your collision repair operations.