5 mil double coated tape with tissue carrier adds dimensional stability for handling
Good adhesion to high surface energy (HSE) materials
Good temperature, chemical and humidity resistance
Range of uses – joining and bonding in general industrial applications
55# densified kraft (DK) paper liner is compatible with rotary die cutting
Our 3M™ Double Coated Tissue Tape 9456 is a high tack acrylic adhesive with good adhesion to many plastics and other high surface energy (HSE) materials. It can be used for end-tabbing, bonding fabric to rigid cardboard, attaching foam to plastics and closing chipboard mailers.
End-tabbing
Bonding fabric to rigid cardboard
Attaching foam to plastics
Closing chipboard mailers
Joining and bonding in general industrial applications
About 3M™ Adhesive 340
Like other 3M™ Double Coated Tapes offered by 3M, this product uses our Adhesive 340, which delivers a combination of high initial adhesion, good shear strength and holding power when applied to a wide variety of materials, including plastics and foams. Additionally, the 340 adhesive in our 3M™ Double Coated Tissue Tape 9456 provides excellent chemical and thermal resistance and can be used in a wide range of temperatures and demanding work conditions. Use this tape in temperatures ranging from -40°F (-40°C) to 150°F (66°C). Collectively, these features make our tape an excellent option for a number of applications across many industries, including: paper, converter solutions, automotive, medical, general industrial, retail, print, point of purchase and packaging.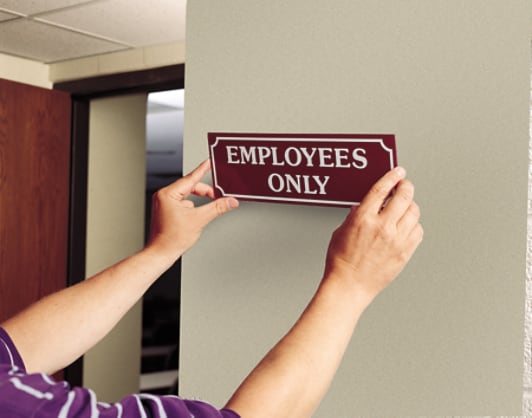 3M™ Double Coated Tapes with 3M™ Adhesive 340 provide a combination of high initial adhesion and good shear holding power
What is Double Coated Tape?
In general, double coated tape is composed of a paper, film, or tissue carrier that is coated on both sides with pressure sensitive adhesive. The adhesive is protected by a peel-away liner that is removed at the time of application. These tapes can be applied by hand or with a dispenser. Double coated tape dispensers are available in a variety of configurations ranging from manual to fully automatic. Applications for double coated tape are found in electronics, automotive, aerospace, general industrial, and fabrication markets.
Compare More 3M Double Coated Tapes for Labeling and Graphics Solutions
(PDF, 26.89 Mb)
Bringing Better Ideas to the Surface through Science
In our 3M Industrial Adhesives and Tapes Division, we apply the science of adhesion to deliver innovative solutions that improve the design and manufacturing processes of companies around the world. In the end, our technologies help customers like you deliver competitive products to the market faster and more efficiently.
Find More 3M Industrial Adhesives and Tapes
(PDF, 12.29 Mb)