Metallized vapor coat on white polyester carrier creates outstanding opacity for graphics
6 mil double-coated spacer is ideal for withstanding repeated stress of switch actuation
2 mil acrylic adhesive on each side delivers excellent shear strength, resists slippage and edge lifting
2 mil white polyester carrier provides strength and stability
Adhesive resists oozing at edges and die-cuts for faster part processing
Double Lay-flat 58 lb. polycoated kraft (PCK) liners add dimensional stability for various die-cutting operations
3M™ Membrane Switch Spacer 7956WDL features a 2 mil white PET film carrier with a metallized vapor coat for added opacity, ideal for graphics. 3M™ High Performance Acrylic Adhesive 200MP delivers excellent shear strength during repeated switch actuation and forms clean edges for precise slitting and die-cutting. A PCK paper liner resists humidity and adds stability for improved sheet processing.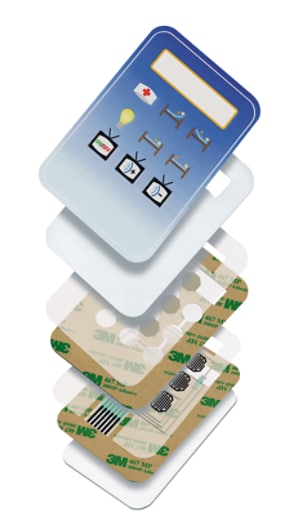 Long-life formulations for die-cut laminations, circuit layer assembly, switch spacers, metal dome placement, and lead protection
A Top Performer Before, During and After Application
Featuring 3M™ High Performance Acrylic Adhesive 200MP, the 3M™ Membrane Switch Spacer 7956WDL is excellent for graphic applications. Its white 2.0 mil polyester film carrier adds structural strength, and a metallized vapor coating creates outstanding opacity for vivid graphic displays. The adhesive, applied at 2.0 mils on each side of the film, is ideal for the stresses of switch actuation over long periods. It is formulated for excellent shear strength — forming a durable bond with plastics and other smooth surfaces with less oozing at the edges. This allows for easier slitting and die-cutting, faster part processing and minimal waste.
Twin 4.2 mil 58 lb. polycoated kraft (PCK) paper lay-flat liners are designed to cover adhesive consistently for full bonding performance after application. Liners resist curling, tunneling and buckling, increases dimensional stability and holds up even under high humidity for efficient storage and processing. Liner design also enables improved rotary die-cutting at high speeds, as well as improved sheet processing.
Recommended Applications
Membrane switch spacers
Graphic and non-graphic applications
Switch mounting
Circuit layer assembly
Metal dome placement
Lead protection
Die-cut laminations
Learn More about Membrane Switch Adhesives
(PDF, 211.7 Kb)
Resilient and Ready
3M™ Membrane Switch Spacer 7956WDL is constructed with 2.0 mil high performance acrylic adhesive that is coated on each side of a 2.0 mil white metallized vapor-coated polyester film carrier. This membrane switch spacer is double-linered with twin 4.2 mil, 58 lb. moisture-resistant, lay-flat, PCK paper liners. Designed to separate switch circuitry until actuation, 3M™ Membrane Switch Spacer 7956WDL provides excellent temperature resistance (up to 400°F/204°C short-term heat resistance), solvents and UV resistance.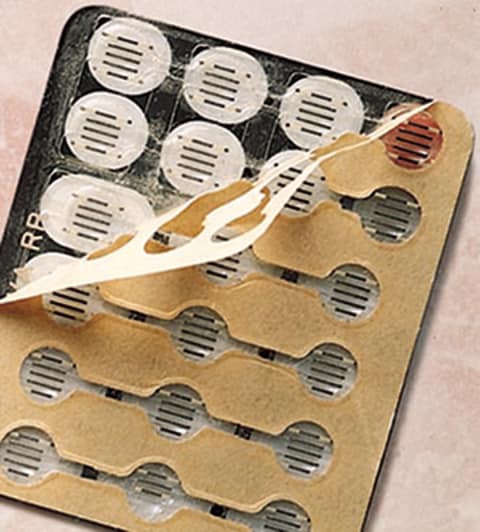 Application-specific configurations for die-cut laminations, circuit layer assembly, and switch spacers
About High Performance Acrylic Adhesive 200MP
3M™ High Performance Acrylic Adhesive 200MP is an industry standard for graphic attachment and general industrial joining applications. It features outstanding adhesion to metal, polycarbonate (PC), ABS and polyester (PET), making it popular across many industries. This adhesive provides some initial repositionability for placement accuracy when bonding to plastics. It also performs well after exposure to humidity and hot/cold cycles, providing confidence that the switch will perform through difficult environmental conditions and millions of actuations.
The Right Choice for a Range of Applications
With low cost, long life, outstanding environmental performance and eye-catching graphics, membrane switches are found in more and more applications. They range from farm tractors and medical test systems to microwave ovens and fish finders. Whatever the need, 3M has a membrane switch construction suited for the job.
Find More 3M Industrial Adhesives and Tapes
(PDF, 12.28 Mb)
Bringing Better Ideas to the Surface through Science
The 3M Industrial Adhesives and Tapes Division applies the science of adhesion to deliver innovative solutions that improve the design and manufacturing processes of companies around the world. In the end, these technologies help customers like you deliver competitive products to the market faster and more efficiently.
Learn More about 3M Labeling and Graphics Solutions
(PDF, 26.89 Mb)
---
Get Data for Finite Element Analysis
Pressure Sensitive Adhesive properties are frequency and temperature sensitive. 3M has developed Material Data Cards (MDCs) for common 3M PSAs for use with many commercially available FEA software applications. Learn more.
REQUEST A 3M MATERIAL DATA CARD