The 3M™ Accuspray™ ONE Spray Gun delivers fundamental improvements in the application of auto paint and other fluids. A lightweight, 1-piece composite spray gun body contains no gaskets or seals, eliminating the need for maintenance kits. The gun accepts a range of Accuspray™ replaceable atomizing heads for a system affording the performance of a new gun, on demand and at a fraction of the cost.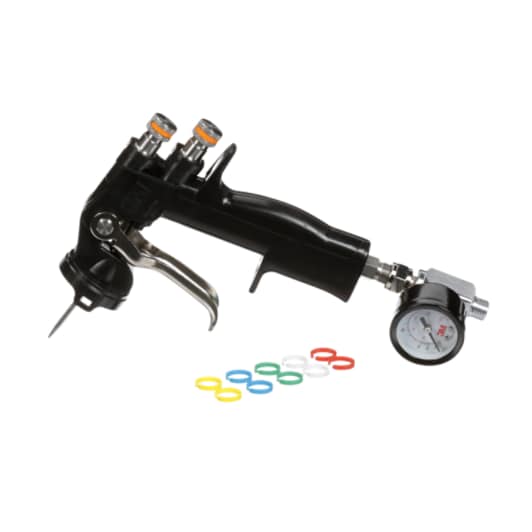 Replacement Accuspray™ spray gun body saves equipment costs
Easy Cleanup. No Maintenance Kits. A Tremendous Range of Uses.
We asked: "If you could have the perfect spray gun, what would it be like?" The result was our
3M™ Accuspray™ ONE Spray Gun
(PDF, 534.40 Kb). It's the only HVLP spray gun that allows for professional-grade application of paint, primer and other fluids with virtually no cleaning and no maintenance kits. This spray gun features a lightweight, composite body that is molded in one piece, eliminating the complexity, wear and cleaning of small parts and pieces like gaskets, seals and O-rings. Convenient, easily-operated controls for fan diameter, fluid and air pressure allow for quick adjustment across jobs from spot repairs to full panel coverage. In fact, this spray gun can handle jobs requiring up to 12" vertical or horizontal spray patterns with very little overspray — one gun for a complete range of applications.
A Spray System That Pays Off
Our
Accuspray™ ONE Spray Gun
(PDF, 611.8 Kb) is a central part of our 3M™ Accuspray™ System for automotive collision repair. It effortlessly accepts replaceable atomizing heads — transparent nozzles that can be reused 5-10 times and then simply removed and replaced. Replaceable atomizing heads are clear so it's easy to see when the head is clean, and the spray guns perform like new every time the atomizing head is replaced — the equivalent of a new spray gun, at a fraction of the cost. The benefits include reduced primer consumption, lower application time and less time for cleanup, plus a better finish which results in less sanding time. The end result: cleaner, more productive, more profitable collision repair operations.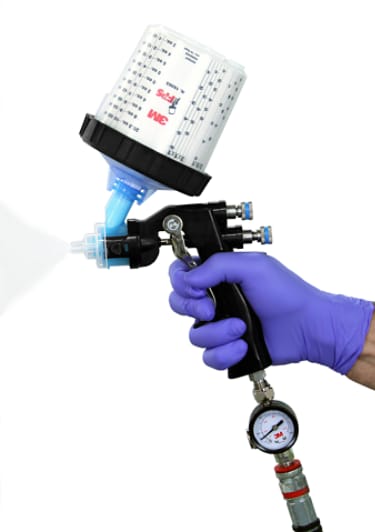 Easily-operated controls allow for up to 12" vertical or horizontal spray pattern
Accuspray™ and Our PPS™ System
The
3M™ Paint Preparation System
(PDF, 1.64 Mb) is an all-in-one closed system for mixing/measuring, filtering, temporary storage and for spraying in any direction, including upside down, for consistent coverage and improved material usage. This system eliminates the inefficient process of mixing paint and other materials separately and transferring them through filters and other equipment where product gets left behind, unused. Instead, paint and other materials are mixed and sprayed out of the same cup with a PPS™ liner, lid and built-in filter. You simply place a disposable liner within a re-usable paint cup. Then mix the paint in the PPS™ liner, snap the disposable lid (with built-in filter) in place and attach the locking collar to
complete the PPS™ System
(PDF, 1.76 Mb). With just a snap and quick quarter-turn, the assembly easily to the spray gun body. Once you're finished spraying, simply remove the liner from the cup and discard it. It's that simple.
There's no need to spend on the extra mixing cups, filters and strainers. And each
PPS™ cup
(PDF, 706.8 Kb) doubles as a temporary container for leftover material — just snap in the included sealing plug to help protect mixed paints, primers and sealants, and save even further on material costs. All of this adds up to a very clear cost savings across your operation. This system lets painters mix less paint, drastically reduce their solvent use, and spend less time cleaning spray guns and cups. All told, the PPS™ system can improve operator efficiency by as much as 15%, and can save up to 70% on solvent usage alone.
The Science of Better Spray Systems from 3M
We put decades of scientific and real-life study into our 3M™ Accuspray™ ONE Spray Gun to help make spray application easier and save collision repair and other professionals time and money at every step. Every feature — from the lightweight composite spray gun body that eliminates maintenance kits to its easy-to-operate controls and varied spray patterns — is another example of what 3M does best: Science. Applied to Life.™