3M™ Scratch Removal System eliminates minor scratches, scuffs and other small defects by sanding, compounding and polishing automotive clear coats. Scratch remover for cars comes with all the specialty supplies to complete the job. You just need to supply a standard household drill and other basic household items.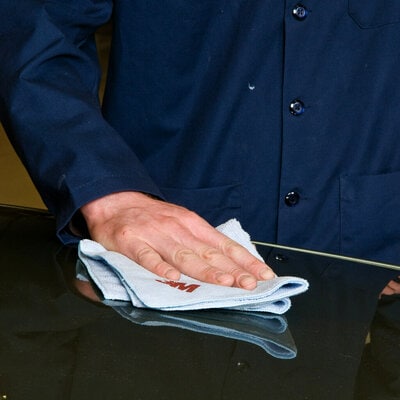 Making Scratches Go Away
When a fine scratch or scuff affects the clear coat, our 3M™ Scratch Removal System goes to work to smooth it out. Consisting of a three stage system of sanding, compounding and polishing, it is designed to remove defects to the thin outer coat of your car's finish. The kit removes small imperfections caused by keys, fingernails, shrub or tree branches, clothing, wash rags and car wash brushes. It is particularly useful in high-contact areas such as around door handles, door panels and trunks.
What is the Clear Coat?
Vehicles are manufactured with exterior finishes comprised of multiple layers: primer, colored paint and a final very thin top layer known as the clear coat. This kit is designed to remove fine scratches that go no deeper than the clear coat. If a scratch is deeper, it may require a more extensive repair such as repainting a portion of the vehicle.
How Does it Work?
The 3M™ Scratch Removal System is based in a simple 3-tiered approach to scratch removal: 1) sanding using the included 3000 grit
sandpaper
to reduce the scratch, 2) application of 3M™
rubbing compound
and refining of the scratched area, and 3) polishing and restoring the scratched area using a 3M polishing pad and
scratch remover
compound. An additional recommended step is to apply automotive wax over the repaired area to protect the car's finish. With any car paint scratch remover, you are actually removing a very thin layer of the clear coat paint, so it's best to add a layer of protection with a polishing wax after the job is done.
What's in the Box
The 3M™ Scratch Removal System provides users with specialty scratch-repair supplies, as well as the step-by-step guidance. Our car scratch remover kit contains one disc pad holder, one 3000-grit abrasive square, one purple compounding pad, one black polishing pad, one 3M rubbing compound (1 oz), one 3M scratch remover (1 oz), and step-by-step directions for use. The user needs to supply a standard household drill (1200-1600 rpm), microfiber detail cloth, spray bottle, water and paper towels.
Learn About 3M Scratch Removal Products
(PDF, 339 Kb)