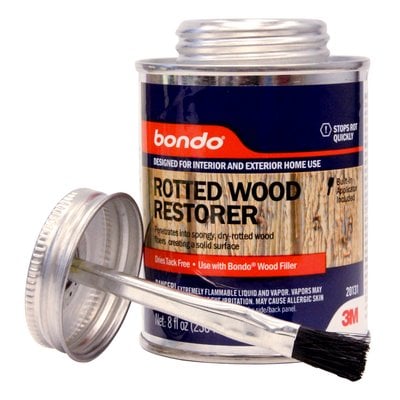 Stops rot and hardens soft wood surfaces
An Innovative Solution to a Common Problem
Wood rot is a common issue for most homeowners, regardless of where you live. Fortunately, it can be easily repaired with the right products. Bondo® Rotted Wood Restorer will solidify soft and spongy wood by penetrating into the wood surface to create a solid base and stop rot quickly. After removing loose or badly rotted wood, you can brush the Rotted Wood Restorer onto the damaged area and within 2 hours the damage can be filled with
Bondo® Wood Filler
(PDF, 219.8 Kb) (sold separately). Our wood restorer is water resistant and is paintable. A built-in brush applicator is attached to the lid for easy and convenient application. Wood restorer dries hard in as little as 2 hours.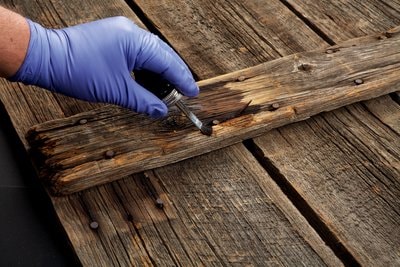 Liquid product dries clear and tack free in 2 hours
The Advantage of Bondo® Rotted Wood Restorer
Because the product penetrates into the wood, it is able to create a solid base from within. Many products simply coat the exterior of the surface, but
Bondo®
Rotted Wood Restorer penetrates beyond the surface. In only 2 hours, the product will dry to a tack-free finish and is ready to be filled with Bondo® Wood Filler (sold separately) to complete same day repairs.
Stops rot and hardens soft wood surfaces
Restorer penetrates into soft, spongy, rotted wood fibers creating a hard surface
Formula creates a solid base for the application of Bondo® Wood Filler (sold separately)
Dried restorer is paintable
Liquid product dries clear and tack free in 2 hours
Water resistance helps prevent future rot