Our 3M™ HR0 Spring Loaded Dual Roller helps achieve consistent wet out of 3M™ Acrylic Foam Tape across varying tape widths. The foam handle is balanced between two rollers, one wide and one narrow. A central clutch controls spring-loaded brakes which allow the rollers to operate only when sufficient pressure is applied. Spring can be pre-tuned for specific OEM applications for consistent 15 PSI.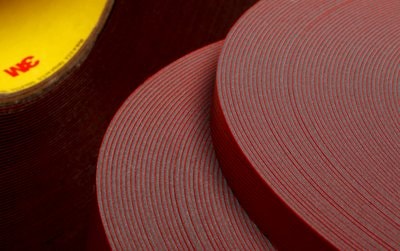 Designed for use with 3M™ Acrylic Foam Tapes
Precision at Each End
A spring-loaded clutch in the center of the 3M™ HR0 Spring Loaded Dual Roller controls individual brakes for each roller. It allows them to turn freely when the operator applies the correct pressure on the spring. This generates a consistent 15 PSI at the bondline, helping to ensure optimal wet out of the foam acrylic tape adhesive to the automotive substrate. Both rollers turn freely on durable shoulder bolts for excellent stability, maximum adhesion and a sharp, professional appearance. This clutch-brake system also holds the rollers in place when not in use. The clutch can be pre-tuned by 3M to match specific OEM specifications.
A foam handle is shaped to fit smoothly and securely into the operator's hand and centrally positioned between the rollers, maximizing tool use and helping reduce operator fatigue. The compact design of this 1.2-lb. tape roller helps ensure precise transfer of pressure from the handle to the rollers, and makes for easy tool storage.
Better Science for Better Adhesion from 3M
Since 1925 when one of our lab assistants invented masking tape, 3M has been applying science to life —developing adhesive products and technologies that help entire industries and individual businesses worldwide. The work that began with a single 3M engineer now spans decades and generations — and all of it goes into each of our products developed for automotive OEM, like the 3M™ HR0 Spring Loaded Dual Roller.