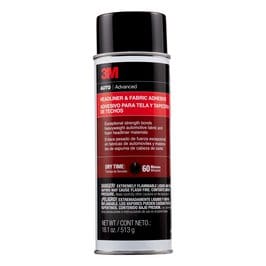 Exceptional strength bonds heavyweight automotive materials
3M™ Headliner Adhesive bonds automotive headliners, carpet and other fabrics with exceptional strength. Our adhesive formula effectively bonds fabrics to non-porous materials such as metal and plastic. The attachment resists the deteriorating effects of moisture, humidity, heat, cold and other environmental conditions.

When installing fabric materials in a vehicle you need our specially formulated adhesive that creates a strong bond but will not stain or discolor the fabric. Our aerosol can dispenses a consistent, even coat of adhesive that reduces the chance of over-saturation. An adjustable nozzle also helps direct the application of the adhesive.

Our adhesive dries in 30 to 60 minutes depending on environmental conditions. This gives you a reasonable working time to complete the job, but sets fast enough to speed the completion of automotive restoration projects.

Exceptional strength bonds heavyweight automotive headliners
Versatile formula effectively bonds headliners to metal and plastic
Aerosol can dispenses a controlled, even layer on surfaces
Recommended for automotive headliners in vehicles
Formula dries in 30 to 60 minutes