Dries quickly to a firm bond
Excellent resistance to water, plasticizer migration, many detergent and soap solutions, oils and grease
A general purpose adhesive for bonding most plastics, vinyls, ceramics, glass, leather and cloth to a variety of substrates
Provides strong, quick drying flexible bonds
Proven to not stain surfaces
3M™ Industrial Plastic Adhesive 4475 dries quickly and has an open bonding time of less than 10 minutes, depending on conditions. Its assembled bonds are proven to be strong. Additionally, it bonds well to plastics, providing long-term adhesion as well as good resistance to cleaning products.
Bonding most plastics (not recommended for polyolefin plastic bonding)
Repairing plastic parts in large and small assemblies
Bonds to glass and metal substrates like stainless steel and aluminum
General industrial and MRO applications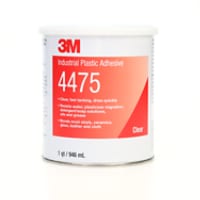 High-performance adhesive bonds firmly to most plastics and vinyls
Speed Up the Bonding Process
With 3M™ Industrial Plastic Adhesive 4475 you can quickly meet the requirements of your bonding application. This fast drying adhesive forms a durable bond at room temperature.
Applying Your Adhesive
Apply adhesive to one or both surfaces and bond immediately using firm pressure. For best results, apply 3M™ Industrial Plastic Adhesive 4475 to both surfaces. Allow to dry a minimum of 24 hours for maximum strength.
Click here for more information on 3M Industrial Adhesives
(PDF, 20.14 Mb)