Made with all metal components to withstand years of use and rugged working conditions
Rod driven, friction feed delivers a smooth and steady stream of automotive sealant and urethane
Designed to fit flexible foil packages of 310 mL or smaller
Fully enclosed case makes package changes quick and easy
This tool has a 12:1 dispersion ratio
Our 3M™ Flexible Package Applicator Gun is used to accurately dispense materials during the repair of interior and exterior seams and joints. It provides steady application of 3M Windshield Urethanes, Urethane and MSP Seam Sealers from 310 mL packages at a 12:1 ratio.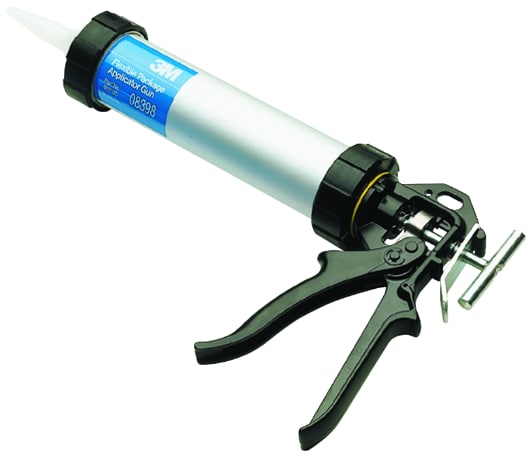 Available in both pneumatic or manual options.
Versatile and Valuable Tool
Used in variety of repair applications, our 3M™ Flexible Package Applicator Gun is an essential tool for any auto body shop. This applicator is used to apply seam sealers to automotive seams and joints, and is made to fit 310 mL packages. It delivers a steady stream of semi-liquid sealer for precise application in tight cracks and seams. Our 3M™ Flexible Package Applicator Gun is versatile for use with a full range of sealers on a wide variety of automotive materials, including glass, metal, fiberglass and painted surfaces.
Can be used with Urethanes & MSP Seam Sealers
High Quality Construction
At 3M, we design tools to last, and our 3M™ Flexible Package Applicator Gun is no different. We use only high quality materials, and make each part available for replacement so that your tool lasts as long as you need it. Made with all metal parts, the fully enclosed body can be easily removed and cleaned, and the internal driver rod provides firm, consistent pressure during use.