Manual applicator gun for applying medium and high viscosity 3M windshield urethanes
Barrel is sized for 3M 450 mL Flex Packs, reducing possibility of pinching and air pockets
18:1 thrust ratio makes application easier even for high viscosity materials
All metal rod, handle, barrel and trigger mechanism adds durability and long life
Twist-off barrel makes loading and removing Flex Packs fast and easy
Our 3M™ Flex Pack Heavy Duty Applicator Gun is a versatile, durable tool for applying 1-part 3M urethanes in collision repair. Its fully enclosed metal barrel is sized for 450 mL Flex Packs, and rod-driven, friction feed application helps ensure smooth results without air pockets or pinching. Trigger-pull operation and an 18:1 thrust ratio make for easy use even for high viscosity materials.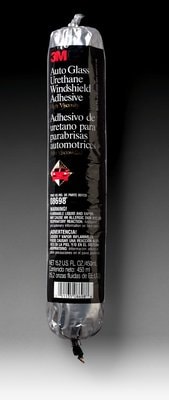 Use gun with Urethane Adhesive Flex Pack (sold separately)
Smooth Application for Tough Materials
Sized for 450 mL 3M Flex Packs, our 3M™ Flex Pack Heavy Duty Applicator Gun provides the sturdy toughness you'd expect for
applying 3M windshield urethanes
(PDF, 155.47 Kb) that exceed OEM strength requirements. This rod-driven friction feed applicator gun makes applying even high viscosity auto glass urethanes fast and easy.
Urethane Flex Packs
(PDF, 85.37 Kb) fit snugly into the fully enclosed barrel, helping to reduce air pockets and pinching during use. Trigger-pull operation makes extruding the material easy and intuitive. The gun features an 18:1 thrust ratio, making for smooth application and reducing operator fatigue. When application is complete, the barrel twists off so operators can easily remove used or partially-used Flex Packs for disposal or storage.
Every major component of the 3M™ Flex Pack Heavy Duty Applicator Gun is built from durable metal, including the barrel, rod, thumb release, handle and trigger for long product life.
Better Science in Collision Repair from 3M
3M puts scientific discovery and development into our urethanes and adhesives for the greatest value, the highest efficiency and your finest finished results in collision repair. This science extends to the way that these materials are applied: with high durability, convenience and ease of use built in, our 3M™ Flex Pack Heavy Duty Applicator Gun is another great example of how 3M applies science to the lives of auto repair technicians.