We designed 3M™ Polyurethane Protective Tape 8674DL as a dual liner, erosion protection tape comprised of a tough polyurethane backing and a long-lasting acrylic adhesive. It resists punctures, tearing, abrasion and ultraviolet light. This leading edge, surface and erosion protection tape can be painted or applied to painted surfaces is qualified to numerous aviation industry specifications.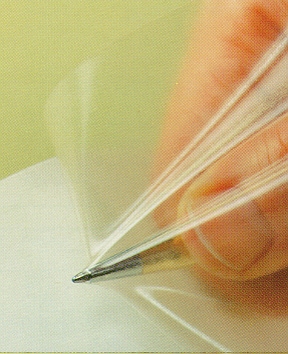 General purpose, outdoor grade polyurethane tape with acrylic adhesive protects paint, plastic, and metal
Thin, Transparent and Tough
We engineered the 8 mil thick 3M™ Polyurethane Protective Tape 8674DL to provide a simple, easy method of protecting a surface from corrosion, abrasion, and minor impact damage. It can be installed in a minimum amount of time with simple tools and can be painted or applied over painted surfaces. It incorporates a long-aging, solvent resistant, pressure sensitive acrylic adhesive both sides have an easy release dual liner. The adhesive side has a poly liner, and the top liner the top is polyester. The top liner helps stiffen the product and can serve as an application aid for some installations. Both liners are removed during and after installation. 8674DL meets aircraft specifications for the aviation industry.
Adhere with Acrylic
This tape features a long-aging, solvent resistant, pressure sensitive acrylic adhesive that bonds on contact to a variety of substrates. Acrylic adhesive "wets-out" the surface, maximizing contact to create a strong bond. Once bonded this adhesive will provide high, secure adhesion for extended periods. This acrylic adhesive maintains adhesion in climate and temperature change variations and resists yellowing in long term use. When finished, this tape removes easily.
Learn More about 3M Aerospace Surface Protection Portfolio
(PDF, 3.02 Mb)
Our Best for Your Best
3M is proud to partner with organizations across the spectrum of aerospace and related industries. Enabling efficiencies, reducing process times and lowering aircraft weight is how we execute our never-ending mission to offer best-in-class adhesives, sealants, surface protection products and composite resins that effectively reduce costs on multiple fronts. Professionals across the industry know the numerous advantages of
3M Aerospace
. Our brand is widely recognized for the highest standards of quality and performance, adding value to the final results. By engineering reliability, longevity and value into all of our products, we have a history of saving money by reducing waste, rework and time.
See Also:
Advance Composite Protection
8734NA
8730NA
Corrosion Protection
8657DL
8658DL
8145GT
8663
Erosion Protection
8673
8674
8671
8672
8667HS
Impact Protection
8641 RBT
Rotor Blade Protection
8545
8542
8681HS
8663HS
Anti-Chafe
8674*
8544**
Temporary Protection
8547
.
Speciality Protection
8617
8616
*Flaps
**Fuel Cells