Can be custom fit and applied using optimum bonding solutions
Strong, resilient polyurethane backing helps protect surfaces from FOD damage
Thick, lightweight matte black material also protects against UV, corrosion, erosion and abrasion
Paintable tape can be color matched to blend paint schemes
Resists punctures, tearing, abrasion and erosion
Used in conjunction with a paste or structural adhesive
3M™ Polyurethane Protective Tape 8545 is a matte black polyurethane elastomer that forms a durable barrier and resists punctures, tearing, abrasion and erosion. We formulated this tape to also be resistant to UV light. This tape can be used in conjunction with a paste or structural adhesive.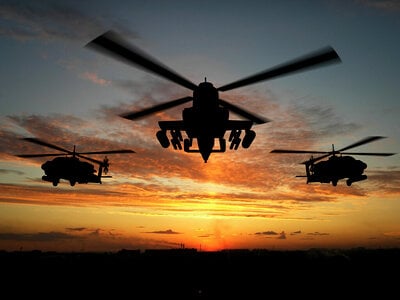 Help prevent structural damage to helicopter rotor blades with minimal effect on blade track and balance
No Adhesive Necessary
Our goal in creating 3M™ Polyurethane Protective Tape 8545 is simple; protect vulnerable surfaces at a cost that returns a significantly higher value in return. That tape has military grade thickness designed to protect leading edge surfaces and rotor blades against costly FOD, erosion, corrosion and minor impact damage. This tape is conformable to most surfaces and can be painted or applied over painted surfaces. The 8545 uses our proven puncture, tear, abrasion and erosion-resistant polyurethane protective backing that also provides similar environmental damage-resistance properties.
Learn More about Polyurethane Protective Tapes for Rotor Blades
(PDF, 4.96 Mb)
Our Best for Your Best
3M is proud to partner with organizations across the spectrum of aerospace and related industries. Creating efficiencies, reducing process times and lowering aircraft weight is how we execute our never-ending mission to offer best-in-class adhesives, sealants and other products that effectively reduce costs on multiple fronts. Professionals across the industry know the cost-saving advantages of
3M Aerospace
. Our brand is widely recognized for the highest standards of quality and performance and adds value to the final results. By engineering reliability, longevity and performance into all of our products, we have a history of saving money by reducing waste, rework and time.
See Also:
---
Find what you need in our aerospace specification portal.
3M maintaints partnerships with every major aircraft OEM in the world. Find your spec today.
FIND YOUR SPEC