Low adhesion polyurethane tape protects surfaces and coatings from scratches, gouges and scuffs caused by tool drops and impacts during the manufacturing process
Tape transparency enables inspection of the surface condition of the substrate without removing the tape
High friction surface allows tape to be walked on while protecting surface from scuffs and damage from debris
Highly conformable over curved and uneven surfaces
3M™ Polyurethane Protective Tape 8547 is a highly-durable, removable tape intended to be used to protect high-value components from surface damage during manufacturing and transportation. 8547 has a glossy, high friction surface which allows it to be walked on after application, preventing scratches, scuffs, and dings to the surface. Because the tape is clear, substrates and coatings can be inspected without removing the tape.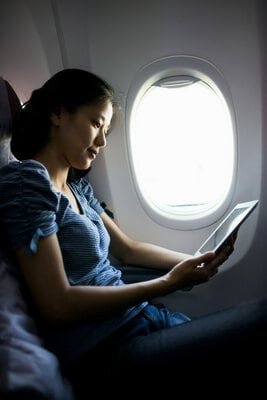 When placed on windows, transparent tape allows natural light into interiors
Highly Durable Protection
3M™ Polyurethane Protective Tape 8547 is a 13 mil, transparent tape coated with a low peel acrylic adhesive with a polyethylene liner. The easy-release, white poly liner enables ease of converting and die cutting into custom shapes, while also protecting the adhesive from contamination prior to application. The tough polyurethane backing is conformable to apply over curved or uneven surfaces.

This tape is intended to be used to protect components from surface damage during manufacturing and transportation processes. Since the backing is transparent, this tape allows inspection of the substrate without removing tape. .

Compatible with Many Surfaces
3M™ Polyurethane Protective Tape 8547 adheres to a wide selection of substrates and coatings including aluminum, stainless steel, glass, acrylic, epoxy primers, polyurethane paints, and aircraft temporary protective coatings.

Our Best for Your Best
3M is proud to partner with organizations across the spectrum of aerospace and related industries. Enabling efficiencies, reducing process times and lowering aircraft weight is how we execute our never-ending mission to offer best-in-class adhesives, sealants, surface protection products and composite resins that effectively reduce costs on multiple fronts. Professionals across the industry know the numerous advantages of 3M Aerospace. Our brand is widely recognized for the highest standards of quality and performance, adding value to the final results. By engineering reliability, longevity and value into all of our products, we have a history of saving money by reducing waste, rework and time.

Learn More about 3M Aerospace Surface Protection Portfolio (PDF, 3.02 Mb)