Flame resistant polyurethane tape provides barrier against moisture that can cause corrosion of seat tracks
Retains a constant level of adhesion over time, yet removes easily when finished
Thin and conformable tape is easy to apply and conforms over curved surfaces
Tough, thermoplastic elastomer is abrasion, tear and puncture resistant
Acrylic adhesive adheres to a wide variety of substrates
3M™ Polyurethane Protective Tape 8686 is a transparent, flame resistant, tough, polyurethane protective tape with a pressure-sensitive acrylic adhesive. It is designed as a protective tape that serves as a barrier against moisture that can cause corrosion, and as temporary surface protection and repairs on aircraft interior fixtures and monuments.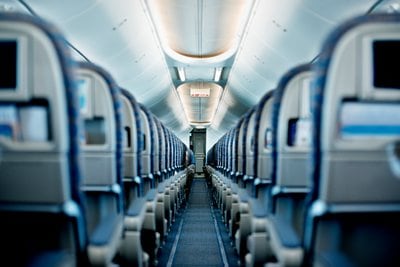 Commonly used as a moisture barrier and corrosion protective tape for seat tracks
Flame Resistance
3M™ Polyurethane Protective Tape 8686 is a 6 mil, transparent, flame resistant polyurethane tape built on a layer of very tough, abrasion and puncture resistant thermoplastic polyurethane. This tape is thin, easy to apply and conforms well to most surfaces. It resists scratches, abrasion, fluids, impacts and punctures and works well in applications requiring temporary surface protection. 3M™ Polyurethane Protective Tape 8686 meets FAR 25.853 and is qualified to leading customer OEM specifications for aircraft interiors. Please validate all certifications at time of usage.
See Also:
Adhere with Acrylic
This tape features a pressure sensitive acrylic adhesive that bonds immediately on contact to a variety of substrates. Once bonded it provides high, secure adhesion for extended periods. This acrylic adhesive maintains bond strength through a variety of climate and temperature changes for long term use. And when needed, the tape removes easily.
Find out more about the 3M Aircraft Corrosion Prevention System
Our Best for Your Best
3M is proud to partner with organizations across the spectrum of aerospace and related industries. Creating efficiencies, reducing process times and lowering aircraft weight is how we execute our never-ending mission to offer best-in-class protective tapes, adhesives, sealants and other products that effectively reduce costs on multiple fronts.
Learn More about 3M Aerospace
---
Find what you need in our aerospace specification portal.
3M maintaints partnerships with every major aircraft OEM in the world. Find your spec today.
FIND YOUR SPEC