Tough polyurethane backing provides durable erosion protection for heated leading edges
Tape is easy to apply, repair and remove
Features operation temperature up to 250F°
Offers erosion protection in elevated temperature environments
Easy application and zero cure time reduces total installation time required to perform crucial maintenance task
Conformable and can be painted or applied over painted surfaces
We developed 3M™ Polyurethane Protective Tape 8730HT to meet the next generation of performance and convenience for maintaining aircraft heated leading edges. This tape is specifically designed to withstand the elevated temperatures of heated aircraft wing leading edges, including C-130s – even in the most extreme climate and environmental conditions.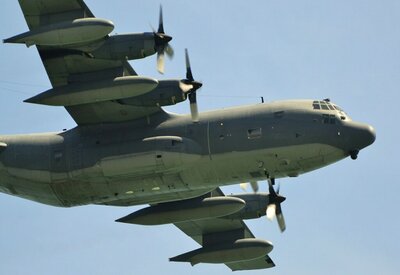 Tough, durable barrier erosion protection on heated leading edges
3M™ Polyurethane Protective Tape 8730HT protects against erosion and abrasion, helping to reduce downtime and the costs associated with leading edge painting and maintenance. Our polyurethane elastomer resists punctures, tearing abrasion to meet specific performance requirements for elevated temperature applications up to up to 250F°. It is a simple and easy method of protecting a surface from corrosion, FOD and erosion. 8730HT can also withstand minor impact damage and can be installed in a minimum amount of time with simple tools. It is paintable and can be painted to match aircraft color schemes or applied over painted surfaces, minimizing prep. 8730HT requires no special tools or handling procedures and can be installed at any indoor location. Simply prepare the surface, remove the protective liner and apply. No edge sealing is needed.
More about 3M™ Polyurethane Protective Tape 8730HT
(PDF, 1.69 Mb)
See Also:
Our Best for Your Best
3M is proud to partner with organizations across the spectrum of aerospace and related industries. Enabling efficiencies, reducing process times and lowering aircraft weight is how we execute our never-ending mission to offer best-in-class adhesives, sealants, surface protection products and composite resins that effectively reduce costs on multiple fronts. Professionals across the industry know the numerous advantages of
3M Aerospace
. Our brand is widely recognized for the highest standards of quality and performance, adding value to the final results. By engineering reliability, longevity and value into all of our products, we have a history of saving money by reducing waste, rework and time.
Learn More about 3M Aerospace Surface Protection Portfolio
(PDF, 3.02 Mb)
---
Find what you need in our aerospace specification portal.
3M maintaints partnerships with every major aircraft OEM in the world. Find your spec today.
FIND YOUR SPEC