3M™ Multi-Purpose Reclosable Fasteners create a secure and simple way to install components and materials such as interior trim panels in vehicles. These fasteners create an attachment when the hundreds of mushroom-shaped stems interlock as the two sides are pressed together. A "snap" sound indicates that the fastener is fully engaged.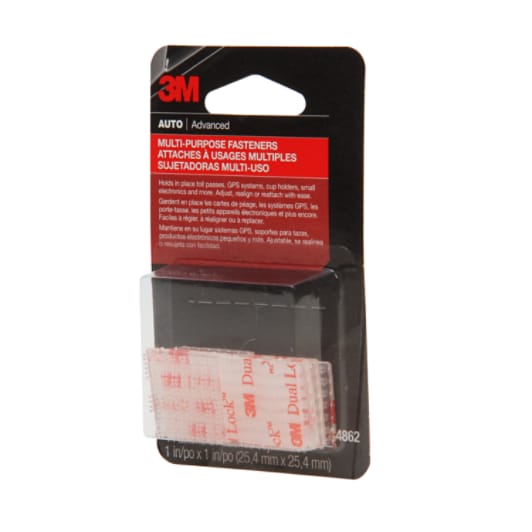 Hundreds of mushroom-shaped stems interlock when the two sides are pressed together
3M™ Multi-Purpose Reclosable Fasteners make an excellent alternative in addition to screws, nuts, bolts, snaps, clasps, welds, VHB tapes and glues when attaching materials in automobiles. Our fasteners engage simply by applying light pressure so that the hundreds of tiny mushroom-shaped steps interlock with one another. If you want to remove the component being installed with these fasteners, simply pull them apart. 3M technology allows for multiple openings and closings without affecting the integrity of the fasteners. Our fasteners provide reliable performance in hot, cold, wet, sunny and other difficult environments.
Typical Vehicular Uses for 3M™ Multi-Purpose Reclosable Fasteners include:
Installing cell phone holders, cup holders and toll pass holders
Fastening headliners and ceiling panels in over-the-road truck cabs, buses, ambulances and recreational vehicles
Hanging ceiling light diffusion panels in light rail cars and buses
Hanging equipment on ambulance walls
Securing removable seat covers and cushions in vehicles
Attaching door and wall panels in vehicles
Suspending privacy curtains in truck cabs
Attaching decorative liner to interior SUV cargo areas
Attaching ceiling, wall and cushioning panels in cargo and horse trailers
3M™ Multi-Purpose Reclosable Fasteners offer both aesthetic and functional advantages over traditional fasteners and attachment methods. Our fasteners also maintain the surface integrity with no holes to invite moisture, corrosion or dirt into the body.
Time and labor saving is another benefit of using our 3M reclosable fasteners, which require no drilling, screwing, tightening, or sewing. If components or materials require adjustment, it's easy to separate the fastener, adjust positioning and then reattach.
Our versatile fasteners come with a pressure sensitive adhesive that may be applied at temperatures above 50 degrees Fahrenheit. The fasteners are not recommended for surfaces such as car mufflers that can exceed 300 degrees Fahrenheit.
See more about 3M Automotive Aftermarket Division Product Catalog
(PDF, 68.63 Mb)