Micron-graded aluminum oxide for very fine finishes
Film backing is strong and durable, reducing likelihood of yielding or deflection when run
3M™ Polishing Film Belt 971X minimizes need for polishing compounds, reducing mess
Flocked coating consists of electrostatically coated fibers and has abrasive coated fibers for a fine finish
Running this belt with water is recommended
3M™ Polishing Film Belt 971X was engineered as an economical alternative to conventional polishing processes. Conventional polishing processes may be messy, requiring multiple steps and compounds to get the job done effectively. The micron-graded aluminum oxide mineral and film backing work together to polish the workpiece in fewer passes and with less mess.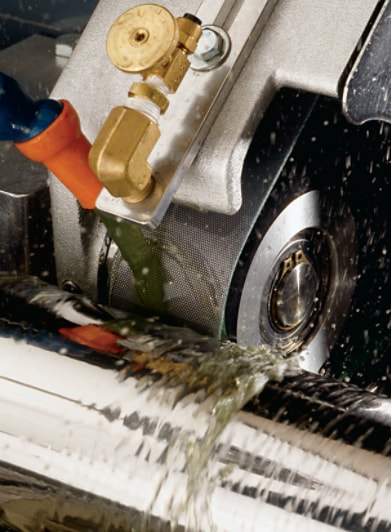 Polishing Films give you unmatched consistency and control for finishing and polishing hard-to-grind materials
Narrowing It Down
3M™ Polishing Film Belt 971X comes in narrow belt converted form. That means it is especially equipped to polish parts with narrow widths. It's commonly used for roll finishing, superfinishing and other fine polishing industrial applications.
Essential Ingredients
3M™ Polishing Film Belt 971X is a flocked abrasive, which means the fibers are electrostatically coated to the film. Micron-graded aluminum oxide is adhered to the film backing with a slurry coating. Slurry-coated abrasives have abrasive mineral embedded in the resin that binds the mineral to the backing. A slurry-coated abrasive tends to produce a finer finish than coated products in similar grades, because — rather than standing straight up or protruding — the minerals lie inside the resin. A slurry-coated abrasive offers twofold benefits. As the mineral is not protruding, the abrasive delivers a finer and softer finishes, grade for grade. Additionally, the slurry coating can take the place of compounds and lubricants, minimizing mess. Instead, this belt can be run with water to keep both the abrasive and the workpiece cool. Aluminum oxide mineral on the 971X gives it the ability to cut fast and finish fine. Popular among industrial professionals, aluminum oxide is a versatile synthetic mineral that can be used on a variety of substrates in both
woodworking
(PDF, 20.55 Mb) and
metalworking
(PDF, 73.23 Mb).

A Polished Touch
3M understands that every application — from initial deburring to final polishing — is integral to your work. That's why each polishing film features a unique combination of backing and mineral tailored to meet your application and to produce consistent, uniform results. Moreover, these films are available in many converted forms. 3M™ Polishing Film Belt 971X is one of many polishing films designed to help you achieve a lasting gleam with less mess in less steps.