F-weight, Fullflex heavy paper backing provides durability and smooth operation in either direction
Anti-static treatment helps manage dust and loading
Sine wave splice prevents hinging in splice area, resists fatigue, and minimizes chatter marks
Silicon carbide abrasive produces finer finish than aluminum oxide
Semi-closed coat construction produces finer finish than open coat abrasives
3M™ Paper Belt 466UZ is a smooth running belt constructed with silicon carbide mineral, bonded to an F-weight paper backing. The semi-closed coat construction efficiently sands and finishes flat surfaces in woodworking applications. F-weight is one of the heaviest, most durable paper backings available and will achieve finer finishes than cloth backed belts in the same grade.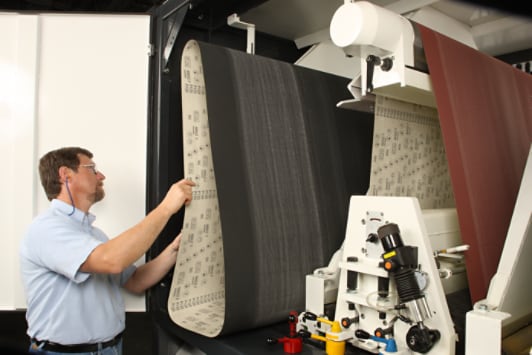 Static resistant treatment reduces loading and offers longer belt life
To help provide your desired finishing results, the belt ends are joined using a sine wave splice that promotes belt strength and resists hinging and splice fatigue. The splice travels smoothly over contact wheels and platens, minimizes chatter marks, and promotes smooth operation in either direction for consistent finishing results.
Our 3M™ Paper Belt 466UZ uses silicon carbide, a synthetic mineral that is very sharp and commonly used for low pressure applications such as final finishing in whitewood sanding. While it breaks down faster than aluminum oxide, it produces a superior finish.
Abrasive belts come in many different widths and lengths and are used on a variety of different belt sanding tools for many different applications on both wood and metal. At 3M we offer a broad selection of belts to fit most any industrial belt sander. Wider belts are used to dimension and sand large wooden panels, smooth rough cut edges of metal sheets, or add a grain pattern to stainless steel sheets. Medium-width belts fit onto edge or portable belt sanders for sanding or blending wood pieces such as cabinet doors.