Uniform brick-like abrasive structure cuts and finishes consistently from day one to the end of the belt's life
Brick and channel mineral structure removes swarf and loading
Grinding aid and mineral structure work together to keep workpiece cool
Higher, more consistent cut and finish on coarser applications can reduce process steps
Extra-long belt life reduces abrasive cost and inventory
The 3M™ Trizact™ Cloth Belt 327DC is ideal for soft metals that quickly load other belts in low pressure applications. Use it for intermediate scratch refinement, dimensioning and finishing, and minor mill line and scale removal. Uniquely engineered aluminum oxide abrasive delivers a consistent finish, sustained cut rate and longer belt life.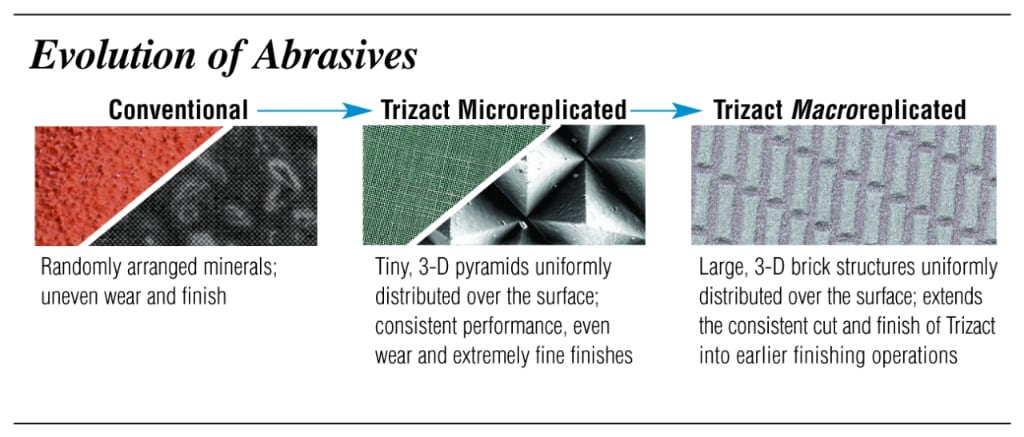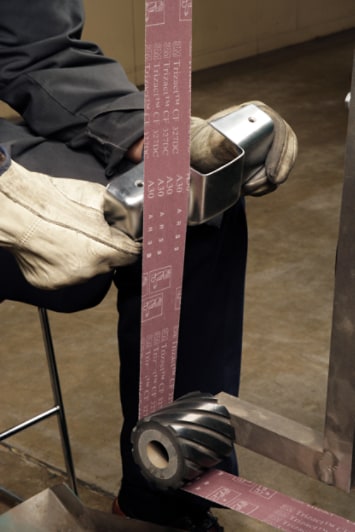 Low pressure, easy breakdown profile helps to avoid loading with soft metals
Designed for Demanding Applications
Originally designed for intermediate finishing applications — removing casting scale and minor defects from orthopedic medical implant devices and cast or forged turbine blades — these belts' more consistent cut and longer life in demanding applications make possible more efficient manufacturing processes and lower cost of operation in many other metalworking applications.
Consistently Performs to Spec
The Trizact™ 327DC cloth belt does not need to be broken in or worked harder at the end of its life. So it's easier to work with and it reduces rework from out-of-spec finishes.
This belt works best running dry centerless applications. It features an untreated, flexible X-weight cloth backing and is available in 1/2-inch to 26-inch widths. It is designed specifically for 80-600 grit flexible abrasive applications.
3M Science. Applied to Making Metal Perform.
3M technology allows us to design abrasives with varying shapes and formulations, to control the level of breakdown, cut, finish and life.
3M™ Trizact™ CF Abrasives for intermediate blending and finishing

Trizact CF 327DC Low Pressure/Easy Breakdown
Trizact CF 337DC Medium Pressure/Original CF
Trizact CF 347AC High Pressure