Apply at surface temperatures as low as 0°F (-18°C) or high as 176°F (80°C)
Resists UV exposure for up to 12 months
Passes nail sealability before and after thermal cycling according to AAMA 711-05
Bonds to most common building materials without primers and staples
Service temperature -40ºF to 240ºF (-40ºC to 116ºC)
No adverse reaction with many building sealants
Split-liner for easy and accurate positioning of tape, especially long lengths
Eligible for LEED Compliance Credits
3M™ All Weather Flashing Tape 8067 is a self-adhered, waterproof flashing membrane designed for sealing around openings and penetrations in exterior walls. This product has a unique acrylic pressure sensitive adhesive that aggressively sticks and stays stuck both at lower and higher application temperatures than traditional flashing tapes. It even adheres to damp surfaces.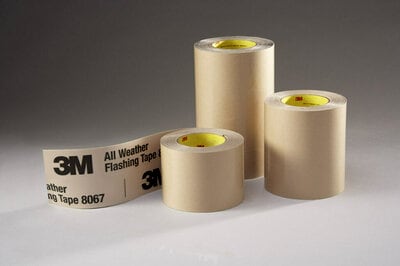 Available in a variety of widths to meet your project needs
Bonds to Most Common Building Materials without Primers and Staples
3M™ All Weather Flashing Tape 8067
(PDF, 193.6 Kb) is engineered to increase productivity while solving the most critical flashing problems. Unique acrylic pressure sensitive adhesive sticks and stays stuck to seal around windows, doors and other openings. To prevent moisture intrusion, the thin backing construction effectively conforms and seals around nails and staples with less buildup under siding. Proprietary construction will not liquefy, bleed, or melt in contact with many building sealants or in extreme summer temperatures.
Recommended Applications
Sealing joints around sills, jambs and heads of rectangular windows in wood frame construction
Sealing around other wall interruptions in non-roof areas, such as thresholds, dryer vents and hose bibs
When installed properly as a concealed flashing in vertical walls in frame construction, it prevents moisture intrusion or water leaks and avoids the costly problems caused by water infiltration
Stays Stuck, Even in Extreme Temperatures
3M™ All Weather Flashing Tape 8067
(PDF, 258.5 Kb) resists UV exposure for up to 12 months. It can be applied to materials without primers or staples and bonds in surface temperatures from 0° to 176°F (-18° to 80°C) per AMAA 711-05. Its proprietary backing seals around nails and staples to prevent moisture intrusion. This backing is also tough, resists punctures and tears, yet it is thin to fit conveniently into corners and under siding. The split paper release liner provides fast application with easy and accurate positioning of the tape.
Click here for more information on 3M Masking and Surface Protection Products
(PDF, 4.65 Mb)