Bondo® Fiberglass Cloth is perfect for any size job, large or small. Our fiberglass cloth is a versatile repair material for use on automobiles, boats, tubs, showers, sinks, pools, hot tubs and more. It works on a variety of surfaces, including metal, fiberglass, and wood. Strong woven cloth is cut with scissors for uniform repairs.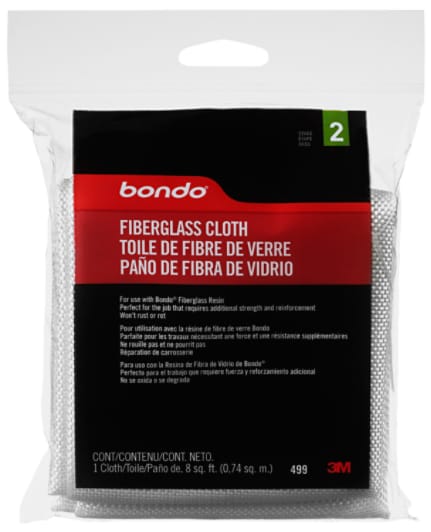 Cloth will not rust or rot
Fiberglass Cloth for Professional-Quality Repairs
Bondo® Fiberglass Cloth provides structural reinforcement for stronger repairs and must be used with Bondo® Fiberglass Resin PN 401, 402, 404 (sold separately). The product repairs holes, cracks and gaps. When used with Bondo® Fiberglass Resin, repairs are 100% waterproof, making the products ideal for tub, shower, sink, pool, hot tub, boat repair and more. Bondo® Fiberglass Cloth is slightly thinner than fiberglass mat, making it easier to work with and easier to hide when finishing. This product can also be used on additional surfaces such as
wood
(PDF, 20.55 Mb), concrete and
metal
(PDF, 12.95 Mb) to provide extremely strong, durable and waterproof repairs.
View more Bondo® products
(PDF, 812.19 Kb)
Reinforced Repair Areas
When properly used with Bondo® Fiberglass Resin, Bondo® Fiberglass Cloth reinforces repair areas and allows for repainting so that the repair looks like the original surface once the job is complete. Fiberglass cloth is easy to cut to size and shape for customized repairs on automobiles. To complete the repair, you'll add layers of fiberglass cloth along with fiberglass resin to fill the hole. Once the patched area has cured, it can be sanded smoothly so that it is level with the surrounding surface. A fiberglass repair completed with resin and cloth is fully compatible with being painted.
Learn more about 3M Automotive Aftermarket products
(PDF, 68.63 Mb)
Benefits of Fiberglass Cloth
Fiberglass cloth is a woven fabric that helps reinforce repairs with its high strength to weight ratio. Use our fiberglass cloth where resin alone would not provide sufficient strength. Fiberglass cloth offers numerous benefits. Fiberglass cloth will not absorb moisture and is non-flammable. Our fiberglass cloth is also resistant to most chemicals.
Repairs Customized to Your Needs
Our fiberglass cloth is highly pliable, enabling it to conform to curved surfaces on automobiles. The flexible nature of the cloth allows for customized automotive bodywork repairs on fenders, doors, hoods and other sections of the car body.
Use During the Fill Stage of the 3M™ Body Repair System
Even a small repair can seem complex at first. So 3M's Body Repair System simplifies the entire automotive body repair process by dividing it into four stages:
Stage 1 — Prepare.
This stage includes pulling dents, removal of paint and rust and efficient, effective masking of the area.
Stage 2 — Fill.
This stage involves patching holes with reinforced filler and smoothing and shaping filler before painting.
Stage 3 — Paint.
This stage includes painting the area and blending and smoothing primer and paint.
Stage 4 — Finish.
The final stage for showroom-grade results: removing small defects, sealing and polishing clear coats and other painted surfaces.
Learn more about Standard Operating Procedures for Collision Repair
(PDF, 325.6 Kb)
3M supplies premium products such as abrasives, tapes,
body fillers
(PDF, 504.4 Kb) and
tools
(PDF, 18.52 Mb) for every stage. This system helps you work easily, efficiently and successfully across the entire body repair process.