Micron-graded diamond mineral delivers sharp, fast cutting action
Plastic handle is lightweight and ergonomically designed for operator comfort
Color coded by grade to help reduce error for multiple grades in a sequence
May be used on a variety of hard to grind substrates from non-ferrous metals to stone and glass
Great for deburring and finishing
3M™ Flexible Diamond Hand File 6210J includes micron graded diamond mineral anchored to a rigid plastic file in a metal bond matrix with an open dot pattern. It's ideal for deburring and finishing non-ferrous metals, as well as stone, glass and ceramic materials.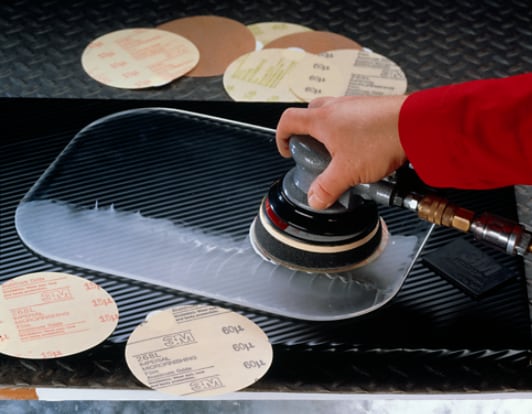 Lightweight and comfortable to use
Combining Sharp Cutting Action with Ergonomic Design
3M™ Flexible Diamond Hand File 6210J was created to help operators gain instant access to the workpiece by incorporating our diamond material into a hand-held design. For those parts that may have hard-to-reach areas or edges that may be hard to access, a hand tool sometimes proves itself to be the best solution.
Our 3M™ Flexible Diamond Hand File 6210J includes all the desirable attributes operators have come to expect from our Flexible Diamond products — including sharp cutting action and responsive design — with the user-friendliness of a hand tool. The plastic handle is rigid yet lightweight.
Available in a Variety of Grades
The diamond mineral on 3M™ Flexible Diamond Hand File 6210J is securely anchored to a plastic file with a metal bond. Metal bonds help abrasives endure repeated wear without breaking down too easily. Diamond, one of the toughest minerals, is long-lasting and cuts sharp. We offer diamond mineral in a variety of grades: 125, 74, 40 and 20 microns. In this way, operators can choose the right grade for their unique application. The hand files themselves are color coded to help operators keep track and reduce the risk for error when they're using multiple files in a sequence.

Altogether, our 3M™ Flexible Diamond Hand File 6210J is a good tool to have on hand when you're searching for effective cutting action and a hand-held tool that can help you access those hard-to-reach areas.
Learn more about improving productivity with 3M™ Superabrasives
(PDF, 2 Mb).