Standard Abrasives™ Aluminum Oxide Precision Cartridge Roll Model C is ideal for high-speed grinding and deburring on irregular contours and other hard-to-reach areas on all ferrous metals. The drive stem is securely affixed within the roll and resin-bonded to the inner layers. This solid construction supports use with larger tools and higher pressure, and enables a smoother application.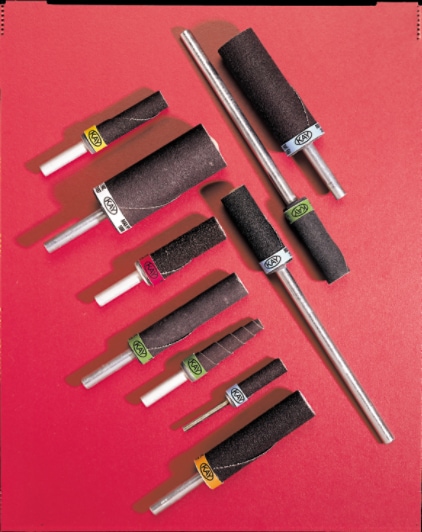 Cartridge rolls offer fast cutting on irregular contours and hard-to-reach areas.
Recommended Applications
Choose a Standard Abrasives™ Silicon Carbide Precision Cartridge Roll Model C (formerly a Kay Roll) when you need added abrasive stability for grinding or deburring applications on hard-to-reach areas of the workpiece. Its small size and cylindrical shape passes easily over and into irregular contours and enable it to reach into holes and diameters of machined parts. It is ideal for getting into grooves, slots, threads or channels, and contoured surfaces such as car parts.
The secure bond of the roll to the drive stem eliminates loosening and vibration, making our Precision Cartridge Roll especially beneficial when high tolerance and precision grinding are required. The multiple layers provide self-trimming capability during use, exposing new abrasive cutting points throughout the life of the roll. Combining an aggressive cut with durability makes this roll a great solution for edge breaking and removal of machine tool marks or flash.
Running a Cartridge Roll on a High-Speed Tool
The Model C cartridge roll has an affixed 1/4" stem that reaches 5/8" into the core and is bonded to the abrasive backing. This stem attaches to a rotary tool such as a die grinder or drill for smooth, controlled high-speed grinding. The protruded stem allows the operator to apply more pressure with larger tools.
Aluminum Oxide Cartridges Offer a Broad Range of Options
We offer Aluminum Oxide Precision Cartridge Rolls in a wide variety of sizes and grades to suit particular contours and different applications. For Model C, grades range from 40-180, producing a spectrum of finishes from coarse to fine. Aluminum oxide mineral cuts sharp and is friable — fragmenting under heat and pressure to reveal sharp cutting edges as it abrades the surface.
Benefits of a Multi-Layer Design
Seemingly small, these cartridge rolls conquer big challenges when space gets tight. The multi-layer, multi-wear design of a Standard Abrasives™ Cartridge Roll keeps it cutting sharp and helps it withstand repeated wear. As top layers wear down with use, underlying layers expose fresh mineral, so you get a continuous and consistent cut, part after part. Wrapping multiple layers of the abrasive material around into a roll contributes to its sturdiness and durability.
A resin bond securely anchors mineral to the cloth backing — also enhancing the abrasive's toughness and strength. The closed-coat construction means mineral grains cover 100 percent of the cloth backing, so that a smoother, more consistent finish is achieved.
Quality Standard Abrasives™ Solutions for Industrial Applications
The
Standard Abrasives
(PDF, 2.94 Mb) brand has supplied quality abrasives to the metalworking industry for over 50 years. Customers rely on our broad offering of high performance products including coated, bonded, and non-woven abrasive lines.