Our 3M™ Thinsulate™ High Temperature Acoustic Absorber HT400P is a lightweight material featuring a web of polyester fibers for automotive sound absorption even in high-temperature applications. The high temperature resistance makes this product excellent for use inside engine compartments. A tough scrim resists chemicals and engine fluids. This product can be die-cut into flat parts and shapes.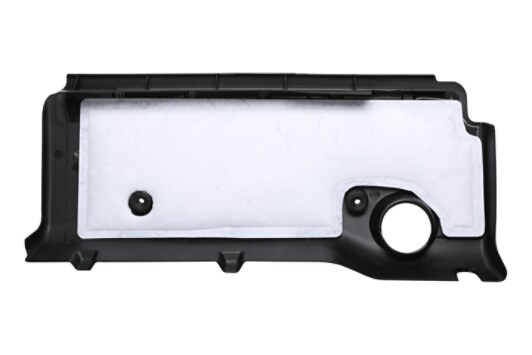 Higher acoustic absorption performance and better heat resistance than PU foam parts
Designed for Automotive Acoustic Performance under High Temperatures
Part of a full selection of acoustic absorbers for automotive OEM, 3M™ Thinsulate™ High Temperature Acoustic Absorber HT400P is an excellent NVH material for high-temperature sound reduction applications such as inside engine compartments. This polyester material resists temperatures of 302°F (150°C) for 336 hours or 356°F (180°C) for 48 hours. Its internal polyester web is designed specifically to absorb vibration and help reduce unwanted noise from traveling throughout vehicles, and its black external scrim resists common engine fluids. This product is a much better sound absorber than fiberglass and does not require special handling. It is also an excellent alternative to PU foams, delivering better resistance and higher acoustic absorption performance.
Properties of 3M™ Thinsulate™ High Temperature Acoustic Absorber HT400P
This acoustic absorber has a caliper of 21 mm and a basis weight of 475 g/m2 — lighter than most current engine-compartment solutions. It is moldable and can be die-cut into a variety of standard flat parts with sealed edges. It can easily be attached to many substrates through common OEM methods such as heat staking or ultrasonic welding. The Thinsulate HT Series passes FMVSS 302 test requirements for horizontal flammability resistance.
Recommended Applications
Engine beauty covers
Hoodliners
Outer dash
Engine undercovers
Battery covers
The Science Behind How Thinsulate Absorbs Noise
All sound is transmitted through the air as waves. These acoustic waves oscillate at differing frequencies. When oscillating waves contact the fine fibers of the 3M Thinsulate acoustic insulation, the resulting friction turns their acoustic energy into heat. The heat irreversibly dissipates and reduces sound. As a result, 3M™ Thinsulate™ High Temperature Acoustic Absorbers applied to automotive interiors reduce interior noise for a quieter, more comfortable ride.
See more about 3M™ Thinsulate™ High Temperature Acoustic Absorbers
(PDF, 1.69 Mb)