3M™ Thinsulate™ Acoustic Insulation AU6020 absorbs sounds to provide superior acoustic control in vehicles. Our automotive acoustic insulation can be used for a variety of sound management applications. Thinsulate acoustic insulation has extremely efficient sound absorption properties, allowing OEMs to use only what they need to make a difference in sound abatement.
Magnified image of Thinsulate™ Acoustic Insulation showing fine PP and larger PE fibres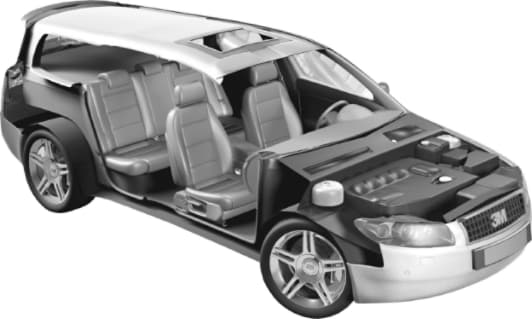 Can easily be die-cut, heat sealed, and thermally or sonically bonded to many other substrates
Absorbs Noise So That Passengers Ride in Comfort
To make the ride in vehicles more comfortable for passengers, 3M™ Thinsulate™ Acoustic Insulation AU6020 absorbs noise so that it is quieter in the interior of vehicles. Our automotive acoustic insulation is made from a unique combination of fine microfibers that absorb high frequency noise, and thicker fibers that provide recovery and loft. It is compressible, lightweight, conformable and can be easily die cut, heat sealed and thermally or sonically bonded to many substrates.
How Thinsulate Acoustic Insulation Works
Our insulation is a unique non-woven acoustic absorber composed of polyester and polypropylene fibers. The polypropylene fibers are extremely fine, producing a high-energy absorption characteristic with low weight. The polyester fibers are added to strengthen the web, while the scrim protects and contains the fibers.
Application Recommendations
Our AU series of automotive sound insulation is recommended for door panels, headliners, instrument panels, parcel trays, pillars, and trunk liners. Depending on application requirements, 3M™ Thinsulate™ Acoustic Insulation AU6020 may be evaluated for use in the carpet/dashmat, under body, under floor, wheel well and other variable cavity applications. To determine suitability, consult your 3M Acoustic Solutions Technical Service Engineer.
Reasons Why Automotive Manufacturers Choose 3M™ Thinsulate™ Acoustic Insulation
Quieter Vehicles. Provides highly efficient acoustic absorption, particularly in middle- to high-frequency ranges.
Lighter Vehicles. Thinsulate acoustic insulation products are made from lightweight polyester and polypropylene non-woven fibers.
Easy to Install. Lightweight and easy to handle compared fiberglass, shoddy, felt and PET.
Mold, Mildew and Moisture Resistant. Install just the insulation — there's no need for an additional waterproof layer during application. Thinsulate acoustic insulation is also resistant to mildew growth, reducing the risk of offensive odors.
Efficient Assembly. Attach our acoustic insulation using a variety of methods including ultrasonic welding, double-sided tape or mechanical clips.
Manufacturing Support. Thinsulate acoustic insulation is supported by a global network of 3M experts. Custom die cutting services are available.
Properties for 3M™ Thinsulate™ Acoustic Insulation AU6020
This acoustic insulation material has a caliper of 44 mm and a basis weight of 617 gm/m2. Fibers are contained in a single white, double embossed scrim.
What is Automotive NVH?
In the professional world of sound management for vehicles, the study of Noise, Vibration and Harshness (often referred to as NVH) focuses on the effects and mitigation of noise as it relates to car cabin noise levels. Noise and vibration are easily measured, while harshness is a more qualitative feature determined by human impressions.
Sources of Noise Needing Acoustic Absorption
Noises can be transmitted by either air or structure. Airborne noises are commonly produced by tire contact on the road, and wind and mechanical operations. Structure borne sound occurs when automotive components vibrate while the vehicle is in operation. Our insulation absorbs those sounds so they are less likely to travel to the interior cabin of the vehicle, making the ride for passengers much more pleasant. A quiet riding experience can enhance the perceived quality of a vehicle.
The Science Behind How Thinsulate Acoustic Insulation Absorbs Noise
All sound is transmitted through the air as waves. These acoustic waves oscillate at differing frequencies. When oscillating waves contact the fine fibers of our Thinsulate acoustic insulation, the resulting friction turns their acoustic energy into heat. The heat irreversibly dissipates and reduces sound. As a result, Thinsulate acoustic insulation applied to automotive interiors reduces interior noise for a quieter, more comfortable ride.