2.0 mil aluminum foil backing is ideal as a vapor seal tape for duct closure
Listed for both UL181A-P and UL181B-FX
Replaces mechanical fasteners for rigid duct board
Thermally conductive backing helps heating and cooling efficiency
Permanent acrylic adhesive combined with the durable 2.0 mil backing provides long service life
The 3M™ Foil Tape 3340 is ideal for sealing rigid fiberglass duct boards and flexible air duct systems. Our tape meets requirements for UL 181 A-P and UL 181 B-FX Listings as a measure of reliability and quality standards.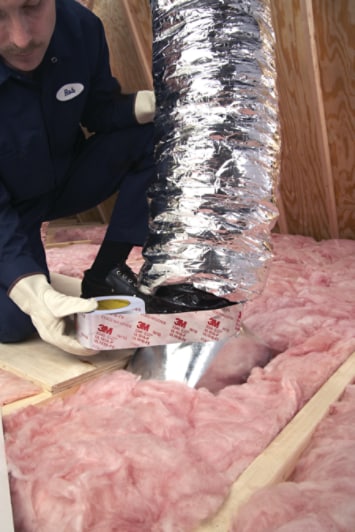 Ideal for sealing rigid, fiberglass ductboard systems and flexible, non-metallic air ducts
Our 3M™ Foil Tape 3340 is constructed using a 2.0 mil aluminum foil backing with a strong, pressure sensitive acrylic adhesive for long-term adhesion, along with an easy releasing poly coated kraft paper liner to protect the adhesive and keep the tape ready for use. The highly engineered aggressive acrylic adhesive performs in both cold and hot temperature conditions.
Recommended Applications
Heating Ventilation Air Conditioning (HVAC)
Duct closure
Vapor seal on reinforced fiberglass duct board
For use with rigid fiber glass duct board
For use with flexible air ducts and air connectors
Superb Temperature Resistance
When sealing ducts and other surfaces for heating, ventilation and air conditioning systems, it's essential to have a strong, long-lasting foil tape that can stand up well to hot and cold temperatures. The 3M™ Foil Tape 3340 has the combination of a foil backing and acrylic adhesive that gives our tape a superb operational temperature range of -40°F (-40°C) to 300°F (149°C). The benefits don't end there; the foil backing also serves as an excellent barrier against moisture, dust and many chemicals — making it strong, durable and long-lasting. The very low moisture vapor transmission rate makes the tape a good sealant and the acrylic adhesive supplies superior temperature and UV resistance to give you a strong, lasting and reliable bond. 3M™ Foil Tape 3340 is used in a variety of applications across a number of industries, including: transportation, specialty vehicle, metalworking, construction, automotive, military and government, general industrial, MRO, electronics and aerospace.