Dead soft aluminum foil is designed to damp vibrations in panels and supports
Controls resonant vibrations through temperatures ranging from -25°F/-32°C to 175°F/80°C with peak damping from 32°F/0°C to 140°F/60°C
Viscoelastic acrylic polymer adhesive is optimized to convert vibrational energy to negligible heat that readily dissipates
Withstands exposure to weathering, moisture and UV
Meets flame retardancy requirements of F.A.R. 25.853(a) and can pass ASTM E-162 and ASTM-E 662 for flammability and smoke generation
Linered for die-cutting applications
3M™ Damping Foil Tape 2552 is constructed of a dead soft aluminum foil constraining layer and coated with a pressure sensitive, viscoelastic acrylic polymer adhesive. This unique construction provides the ability to control resonant vibrations in a variety of applications and across a broad spectrum of temperatures.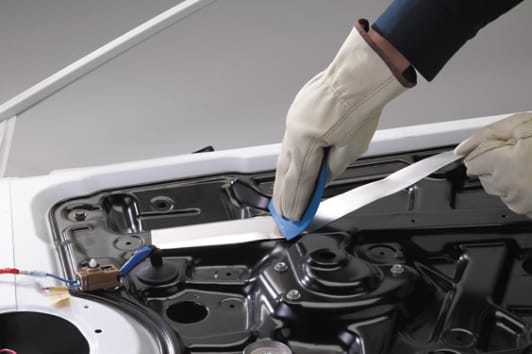 Aerospace
Automotive
Appliance
General industrial applications to mitigate vibration which produces noise and fatigue