Seals boxes with a "C" clip of Scotch® tape
Durable low maintenance curvilinear design
Operates at conveyor speeds up to 100 ft. per minute
Provides consistent quality tape application shift after shift
Securely seals with low impact to protect even lightweight cases
Our 3M™ AccuGlide™ 3 Upper/Lower Taping Heads, available in two and three inch versions, are designed to operate on conveyor speeds of up to 100 ft. per minute. The heads are usually mounted onto 3M-Matic™ Case Sealers but can also be used in converting other case sealers or in custom equipment.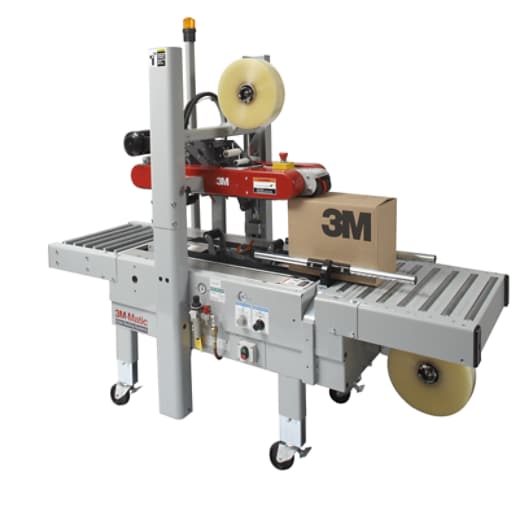 Delivers low-impact sealing for higher productivity
Provides Easy and Accurate Case Sealing
3M™ AccuGlide™ 3 Taping Heads feature a curvilinear design that applies tape securely with low impact to help protect even lightweight cartons and contents. Designed to apply a C clip of Scotch® box sealing tape, the 3M™ AccuGlide™ 3 Taping Heads seal center seams at speeds of up to 40 cases per minute.
Recommended Applications
Designed to apply 2-3" tape at 100 ft. per minute case speed when mounted on 3M-Matic™ Case Sealers
3M™ AccuGlide™ 3 Taping Process
A regular slotted container is placed on the conveyor and pushed onto the drive belts of a 3M-Matic™ Case Sealer, which convey the box into the 3M™ AccuGlide™ 3 Taping Head. The 3M™ AccuGlide™ 3 Taping Head applies Scotch® pressure sensitive film box sealing tape at the leading end of the box continuing along the center seam to the trailing end. This is called a "C" clip application. The taping head cuts the tape as it is being applied. After the box is securely sealed, it exits the case sealer. Taping heads usually function in pairs to tape two seams of a case. When they tape the top and bottom, taping heads are mounted in an upper and lower configuration. Taping heads can also be mounted for sealing a case lying on its side.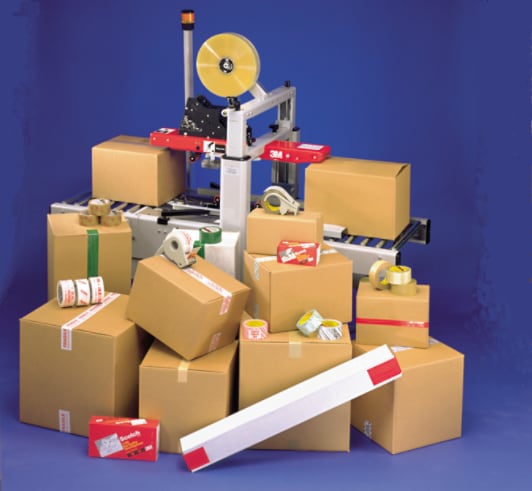 Seals up to 100 ft. per minute with consistent and accurate case sealing
Bringing Better Ideas to the Surface through Science and Innovation
In our 3M Industrial Adhesives and Tapes Division, we apply the science of adhesion to deliver innovative solutions that improve the design and manufacturing processes of companies around the world. In the end, our technologies help customers like you deliver competitive products to the market faster and more efficiently.
Designed for use with the following 3M-Matic™ Case Sealers:
3M-Matic™ Case Sealer 800rf
3M-Matic™ Case Sealer 800af
3M-Matic™ Case Sealer 800a
3M-Matic™ Case Sealer 800r
3M-Matic™ Case Sealer 700a
3M-Matic™ Case Sealer 700r
3M-Matic™ Case Sealer 200a
3M-Matic™ Case Sealer 800ab