Industrial packaging tape for medium-duty applications on a wide range of materials
White with red type: MIXED MERCHANDISE ENCLOSED
High edge tear and split resistance ideal for general industrial applications
Polypropylene backing with synthetic rubber adhesive delivers conformability under stress
Easy unwind and smooth dispensing works well on high-speed automated packaging lines
Resists abrasion, moisture, chemicals and scuffing for long-lasting performance
Excellent adhesion to recycled liner paper and fiberboard
Scotch® Printed Message Box Sealing Tape 3775 is an industrial grade packing tape that securely closes a wide variety of medium weight box materials, including recycled fiberboard. The polypropylene film backing is easy to unwind and resists abrasion, moisture and scuffing. It features a red printed message reading: MIXED MERCHANDISE ENCLOSED.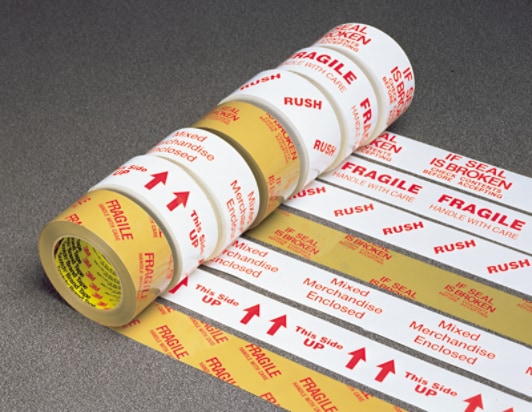 Scotch® Printed Message Box Sealing Tape 3775 features red type that reads: MIXED MERCHANDISE ENCLOSED
Recommended Applications:
General industrial packaging applications
Recycled liner paper and fiberboard
Boxes weighing up to 70 lbs.
Make Your Message Stick
Scotch® Printed Message Box Sealing Tape 3775 features a biaxially oriented polypropylene film backing with pressure-sensitive rubber adhesive. It adheres instantly and consistently to most surfaces including cartons containing high levels of recycled content. It offers good edge tear and split resistance and meets FDA guidelines for indirect food contact.
Durable and Dependable
This industrial grade sealing tape, also known as packing tape or adhesive tape, is designed to securely close regular slotted containers (RSC) and packages used for moving, shipping and distribution. These tapes feature durability and high strength and work especially well on challenging recycled corrugate and fiberboard. Because it is consistent and reliable, industrial grade sealing tape is popular in general industrial packaging applications.