3M™ Water Activated Paper Tape 6141 is an easy, economical solution for a range of box sealing and other packaging applications. This water-activated "gummed" adhesive tape is designed to provide a strong seal to a wide variety of lightweight corrugated boxes.
Sealing light weight corrugated boxes
Recycled cartons
Non-unitized loads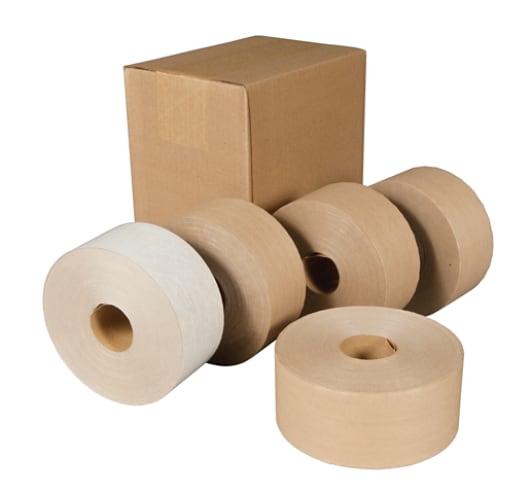 3M™ Water Activated Tape Systems: Simplicity. Security. Value.
For Box Sealing and Other Packaging Applications
Our 3M™ Water Activated Paper Tape 6141 is recommended for sealing lightweight packages. The optimal method for securing a box is to form two C clips on each carton top and bottom. When water-activated, this tape easily and quickly conforms over carton edges and corners to form secure C clip seals.
Our water-activated, or "gummed," tape is very effective for sealing corrugated cartons, as the adhesive will bond with the fiberboard material to create a strong durable seal and endure the toughest handling and shipping scenarios.
Non-Reinforced
Fiberglass Reinforced
6141
Light Duty
6144
Up to 25 lb. Boxes
6142
Medium Duty
6145
Up to 30 lb. Boxes
6143
Heavy Duty
6146
Up to 35 lb. Boxes
6147
Up to 40 lb. Boxes
3M™ Water Activated Tapes are available in both white and kraft in a variety of widths.
Our tape works well on recycled cartons and non-unitized loads. Its 35 lb. paper construction assures reliable performance across a range of environments and applications.
Our economical packaging tape meets the needs of numerous industries and general industrial applications such as food, beverage, medical pharmaceutical, paper, print, electronics, shipping and distribution centers.
Bringing Better Ideas to the Surface through Science and Innovation
In our 3M Industrial Adhesives and Tapes Division, we apply the science of adhesion to deliver innovative solutions that improve the design and manufacturing processes of companies around the world. In the end, our technologies help customers like you deliver competitive products to the market faster and more efficiently.