3M™ Perfect-it™ Hookit™ Foam Polishing Pad is a soft foam buffing pad used to buff out fine scratches created from sanding or compounding steps over intermediate-size surface areas. The waffle face provides a greater surface contact area than flat surface pads, minimizes heat buildup during buffing and helps eliminates swirl marks. It also helps the pad hold the polish and reduce slinging.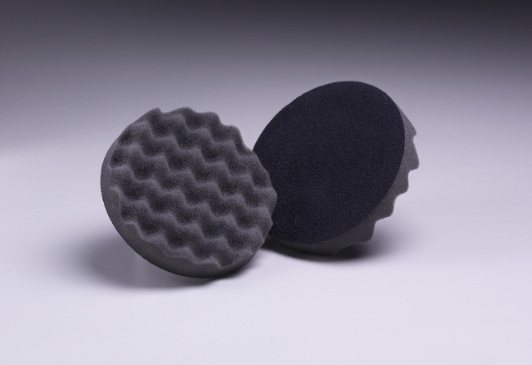 3M™ Perfect-it™ Hookit™ Foam Polishing Pad can be used with 3M™ Buffer PN28333
We designed this black buffing pad to be used in conjunction with our 3M™ Perfect-it™ family of polishes specially developed to achieve satin, semi-gloss or high gloss finishes on wood, automotive, marine, and aerospace coatings. The pad removes the abrasive sand scratches that were created to remove small defects in automotive clear coats and can also be used in the 3M™ Perfect-it™ Paint Finishing System for paint and clear coats repair when the finest finish is required. Our pad is manufactured with the 3M™ Hookit™ attachment system for quick pad attachment and removal and to hold the pad securely in place during use. 3M™ Hookit™ buffing pads conveniently and firmly attach to a hook-and-loop backup disc pad (sold separately) on rotary or random orbital tools, can be removed cleanly and easily, and can be re-used again and again for the life of the pad. Finish results are dependent on the combination of coating type, polish, and tools used.
We developed foam pads to address the unique chemical composition of evolving paint and clear coat technologies. Foam pads are generally less aggressive and produce a finer finish than wool pads. They normally operate at higher RPMs than wool pads, relying on a combination of cutting and heat buildup to slightly melt the surface coating and remove fine scratches, swirl marks, and surface marring. Foam pads range in abrasive levels determined by its softness and the cell size of the holes; the larger the hole, the more aggressive the pad. "Closed cell" pads are the least aggressive type. Foam buffing pads are used in conjunction with polishes and are suitable to use with rotary and random orbital tools.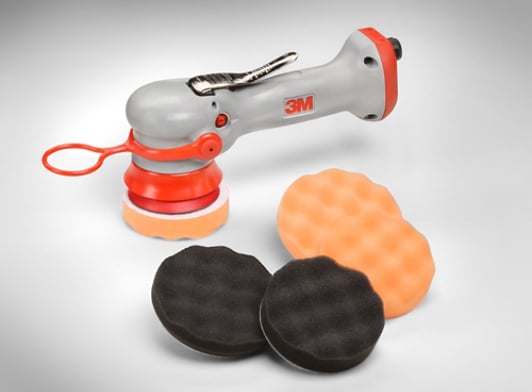 Our 3M™ Perfect-It™ system was created to produce show-room grade finishes with deep color and rich gloss. Our system uses a progressive series of abrasives, buffing pads, and proprietary polishes across four stages of repair. The stages consist of sanding, scratch refinement, compounding, machine polishing, and swirl elimination. The level of work and stages needed for paint repair depend on the severity of the paint imperfection and Perfect-It™ provides an effective solution for any level of clear coat and paint repair. 3M™ Trizact™ abrasives, along with compound and polish formulations that are unique to 3M, provide increased shop productivity while helping to deliver the best-looking vehicle possible. 3M offers almost 700 aftermarket products, covering every stage of the auto refinishing process. The commitment to continual product development ensures a stream of innovative solutions resulting in quicker job throughout, consistent quality results and reduced costs.