Helps reveal fine scratches and imperfections after buffing
Specially-formulated spray is gentle on paint and leaves no residue
Apply with a shop spray bottle
Convenient 1-gallon can with handle for easy portability
3M™ Inspection Spray is used to inspect automotive surfaces for lingering sand scratches after buffing. The gallon of inspection spray contained within this can helps operators detect sand scratches and other defects that may otherwise not be readily seen. It does not harm paint or leave residue.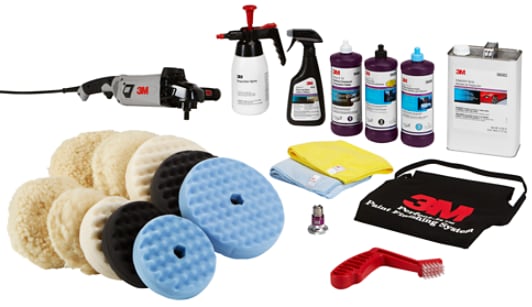 Designed to work with 3M™ Buffing Pads and Compounds
Bring Scratches to Light
When it comes to inspecting vehicles for scratches and marks, you can't risk unseen sand scratches. We engineered 3M™ Inspection Spray to help technicians locate these scratches even in difficult lighting conditions. This automotive inspection spray is specially made to reveal swirl marks and sand scratches after buffing.
Take it Step by Step
We recommend using 3M™ Inspection Spray after every buffing step to ensure that tiny imperfections are revealed. 3M recommends using this product with the
3M™ PPS™ SUN GUN™ II Light Kit PN 16550
. The easy-to-use inspection spray will not harm the paint or leave residue.
View the 3M™ Buffer and Polisher Guide
(PDF, 1.5 Mb)