We developed 3M™ Scotch-Weld™ Tamper Proof Sealant EC-1252 as a one-part, fast drying, anti-tamper sealer commonly used by aircraft industry to indicate sabotage, tampering, alteration or vibration loosening. Our one-part, air drying compound dispenses from a collapsible metal tube. The non-sag paste-like sealant easily conforms to contours, curves and over components.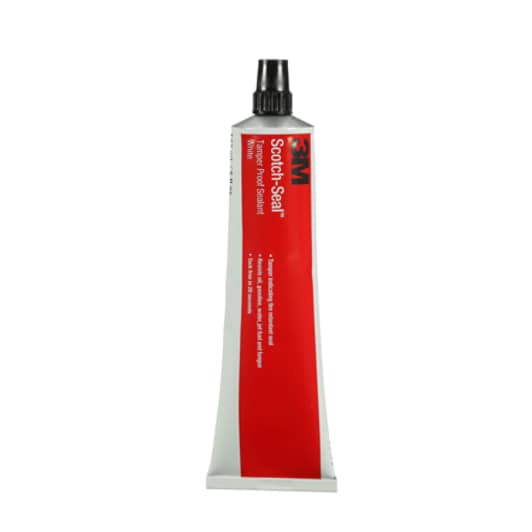 1252 is a one-part, fast drying, anti-tamper sealer
3M™ Scotch-Weld™ Tamper Proof Sealant EC-1252 is the ideal solution to protect settings and calibrations of hydraulic, pneumatic, and electronic equipment against tampering. Our easy-to-apply product seals components between stages of assembly and parts that are restricted to adjustment, alteration, or access by qualified personnel. EC-1252 is available in yellow, blue, pink and white, making it easily distinguishable from the parts around it.
Exposed surfaces of Scotch-Weld EC-1252 will accept ink from an inspector's approval stamp within 20 seconds of application. This tamper proof sealant can withstand operational temperatures of up to 200°F (93°C). It dries to tack-free in 20 seconds and is suitable for stamping with ink and fully dry in 24 hours. Our sealant works well on most surfaces common in the aerospace industry such as aluminum, steel and most plastics. 3M™ Scotch-Weld™ Tamper Proof Sealant EC-1252 resists oil, gasoline, water, and jet fuel, and it will not corrode metal and remain where you need it for the long haul. Our sealant meets the need for an effective and long lasting tamper-evidence product for the aerospace industry as a readily visible means of alerting workers and inspectors that settings and calibrations of equipment may be out of spec due to vibration, sabotage or unauthorized tampering.
Our Best for Your Best
3M is proud to partner with organizations across the spectrum of aerospace and related industries. Enabling efficiencies, reducing process times and lowering aircraft weight is how 3M executes its never-ending mission to offer best-in-class adhesives, sealants, surface protection products and composite resins that effectively reduce costs on multiple fronts. Professionals across the industry know the numerous advantages of
3M Aerospace
. The brand is widely recognized for the highest standards of quality and performance, adding value to the final results. By engineering reliability, longevity and value into all of its products, 3M has a history of saving money by reducing waste, rework and time.