3M™ Repulpable Flying Splice Tape R5348 is a 5.0 mil splicing tape ideal for lower-temperature applications including newspaper, gravure, offset and flexographic printing as well as offline splice preparation and subsequent roll storage. It features easy-release break-open mechanism for fast, smooth flying splices. This straight-across tape eliminates complex or multi-tape setup, saving time.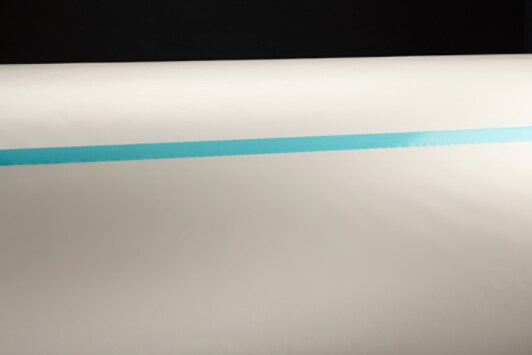 R5348 is ideal for low- to medium-weight applications such as newspaper rolls
For Lower-Temperature Flying Splice Applications
3M™ Repulpable Flying Splice Tape R5348 is ideal for low- to medium-temperature ovens on a range of substrates. Its 2.5 mil repulpable adhesive is suitable for light- to medium-weight paper as well as substrates including polyethylene, BOPP, polyester, cast polypropylene and aluminum foil. This splittable flying splice tape features a split liner that allows for easy roll preparation. The 3M proprietary break-open mechanism releases easily for smooth, reliable splices.
Recommended Applications:
Printing using low- to medium-temperature ovens for drying (40° to 100°F/4° to 38°C)
Light- to medium-weight newspaper printing, gravure and offset
Flexographic printing on high surface energy substrates
Offline splice preparation
Prevents Contamination
Unlike the competitor, 3M™ Repulpable Flying Splice Tape R5348 is fiber-free. This can result in less contamination on your blankets and throughout your process. This may lead to fewer printing defects and less downtime spent on cleanup.
Both the adhesive and the liner of our Tape R5348 are repulpable, which prevents broke contamination caused by non-repulpable fibers helping to increase the value of waste paper. The adhesive and backing meet or exceed TAPPI UM-213, procedure A.
Keep the Presses Running and Your Customers Coming Back
For decades, 3M products have been at work in paper mills and printing plants helping to improve the quality of the work that goes out and the efficiency of how it gets done. From
paper web splicing
(PDF, 426.1 Kb) to plate mounting and packaging the finished job, 3M applies science life for solutions and service throughout your operation.