3M™ Controlled-Flow Seam Sealer offers considerable strength, flexes under torsional stress from vibration and withstands extreme weather. The urethane formula contains no solvents and will not shrink or crack. These characteristics make it an ideal choice for automotive applications where motion and exposure to weather are a constant factor.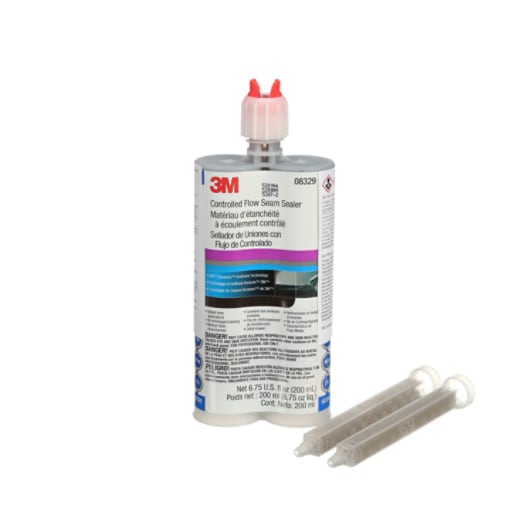 Excellent for sloping areas
Tough, Flexible and Self-Leveling
3M™ Controlled-Flow Seam Sealer uses two-part urethane technology to provide a tough flexible material for the sealing of joints on primed or painted substrates such as steel or aluminum enclosures. 3M™ Control-Flow Seam Sealer works particularly well in areas where a flowable self-leveling type seam sealer is required. It is designed to flow one to two inches and then begins to cure, preventing further flow out of the material. This feature allows the user to control the application, preventing excessive waste while maintaining a uniform film thickness even on
surfaces that are not level
(PDF, 246 Kb). Typical product uses include automotive "roof ditch" applications where a flow grade sealer is required and some "trunk rain gutter" seams where the use of a standard "self-leveling" sealer is unacceptable due to flow characteristics.
Our urethane base auto body seam sealer has a paste consistency and is black/amber in color. This 3M seam sealer offers a 3 minute work time, cures in 2 hours and is ready for painting in about 40 minutes, depending on environmental conditions.
Directions for Use:
NOTE: 3M Best Practice is that all sealers, unless designated specifically for use on bare metal, be applied to properly prepared automotive paint or primer.
SURFACE PREPARATION:
NOTE: Apply only to surfaces primed with a 2K urethane, 2K epoxy primer, or clean, sanded paint. Acid etch primers should never be in direct contact with seam sealer.
Scuff primed surface with a Scotch-Brite™ General Purpose Hand Pad (Ultrafine), (PN 07448)
Blow off dust with clean, compressed air and wipe with a clean, dry rag
PRODUCT PREPARATION:
Insert cartridge into applicator gun
Remove retaining collar and plug from end of cartridge. Discard plug, save retaining collar
Extrude a small amount of product until both parts A and B dispense equally
Attach 3M™ Mixing Nozzle (PN 08193) to cartridge and lock in place with retaining collar
Dispense a small amount of material and discard
GENERAL REPAIR PROCESS:
Extrude sealer onto surface. Allow to cure a minimum of 40 minutes before beginning the painting process.
NOTE: If sealer is allowed to cure more than 24 hours, scuff the sealer prior to any painting steps.
3M Science Meets the Needs of Automotive Professionals
3M used the technical properties of two-part urethane to create a sealer that combines toughness with flexibility. This sealer is ideal for filling channels and drip rails on all types of vehicles and recreating puddle-type seams. It may also be used to seal water leaks in drip rails and channels.