3M™ Urethane Seam Sealer is a high solids seam sealer ideal for sealing automotive and RV seams and joints. It adheres well to bare metal, primed metal and painted surfaces, and if desired can be smoothed to a featheredge and/or brushed. Tack free and paintable after 30-45 minutes, this urethane formula is permanently flexible and offers superior performance to solvent-based sealers.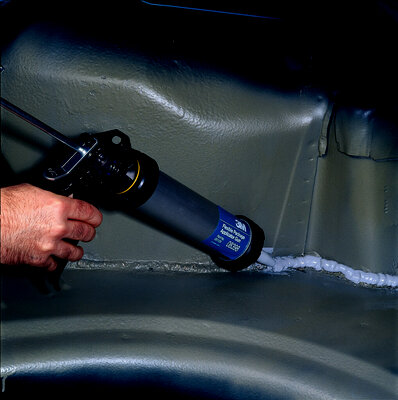 High performance general purpose seam sealer
Create Tight, Long-Lasting Seals
3M™ Urethane Seam Sealer is an excellent choice when sealing interior or exterior seams to help prevent the intrusion of water, dust, and air, aiding in providing corrosion resistance at these locations. Choose this seam sealer for high-quality sealing of seams and joints on primed metal or painted surfaces, and even on bare metal. It applies easily and is formulated for long-lasting support to the seam without shrinking, cracking, or causing unpleasant odors.
Fill in Gaps with Confidence
With its thick consistency, our 3M™ Urethane Seam Sealer is an excellent gap sealer and you can feel confident using this sealer to fill large voids between parts where they occur. Designed to be used over epoxy or urethane based primers, the sealer comes in several colors to enable color matching. Note that the sealer should be top coated when exposed to ultra violet rays.
Excellent Performance in High Heat and Humidity
While some seam sealers require cure time in a completely dry environment, our 3M™ Urethane Seam Sealer is moisture-curing so it provides a reliable seal regardless of moisture or humidity in the air. It can be painted after 30-45 minutes.
Rigid or Flex Pack Options
This sealer comes in either a flexible foil pack or rigid metal cartridge. Application of the cartridge sealer requires the use of a 3M™ Single Component Cartridge Applicator Gun - pneumatic (08990) or 3M™ Professional Caulking Gun (08993), and 3M™ Threaded Cartridge Nozzles (08187). Foil packs are designed for use with 3M™ Flexible Package Applicator Gun - Pneumatic (08399) or 3M™ Flex Pack Applicator (08398) these include one applicator nozzle, additional nozzles may be acquired as PN (08188).
3M Science Meets the Needs of Automotive Professionals
3M™ Urethane Seam Sealer was formulated for general repairs that require long-lasting hold, easy curing, and appearance matching. 3M™ Urethane Seam Sealer is ideal for lasting seam sealing protection on many different surfaces, including bare metal, and allows technicians to expertly recreate OEM appearances. This expert formula represents another way that 3M applies scientific knowledge and ingenuity to the automotive industry.
See more about 3M Automotive Aftermarket Division Urethane Seam Sealers
(PDF, 228 Kb)