The 3M™ Stikit™ Abrasive Disc Roll Dispenser keeps your disc rolls neat, clean, and easy to grab. The dispenser holds two rolls of 5˝ or 6˝ discs (sold separately) and provides a convenient and tidy way to keep discs ready for shop use. The red steel frame stands up to rugged shop environments, is easily located, and handles well for portability.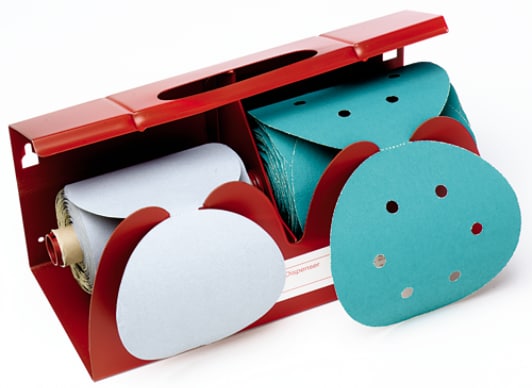 Fast, easy one-handed dispensing of a single disc
Keep Abrasive Discs at Your Fingertips
Compact and sturdy, our 3M™ Stikit™ Abrasive Disc Roll Dispenser is a simple tool that makes auto body sanding jobs easier and more efficient. This disc roll dispenser is designed specifically to hold and dispense 5" and 6" Stikit™ discs, allowing you to keep the rolls on hand and keep them protected from dust and dirt during busy days in the shop. The dispenser helps keep the disc rolls clean so that they attach firmly and consistently to the back-up pad. Openings on each end of the dispenser allow you to see the disc supply at a glance.
Ease of Use
Technicians simply install the disc rolls into the holder and feed the edges through the slots. Abrasive discs pull smoothly through the slots and can be torn off quickly and easily on the dispenser's metal cutting edges, even with one hand. The double sided dispenser holds two abrasive disc rolls (sold separately).
Ready-to-use Stikit™ discs
(PDF, 2.3 Mb) feature a pressure sensitive adhesive coating on the backs — simply tear off the disc you need, press it onto a same-size Stikit™ back-up pad on the tool, and you're ready to sand. These convenient discs remove just as cleanly, leaving an uncontaminated surface for the next disc.
Better Science for Better Sanding from 3M
Our 3M™ Stikit™ Abrasive Disc Roll Dispenser helps collision repair professionals get the most from our 3M Stikit™ Disc Rolls. Simple, smart and effective, it's another example of how 3M applies science helps collision repair professionals achieve the best possible results.