The 3M™ Dynamic Mixing System Nozzle is integral to fast, accurate mixing of two-part body repair products. Nozzles are specially designed for low-waste mixing that thoroughly blends material to specific ratios. Choose the DMS 1.0 red nozzle for fillers and glazes, and purple nozzles for DMS 1.5 adhesives and sealers. Nozzle extensions are available for adhesives and sealants to reduce bead size.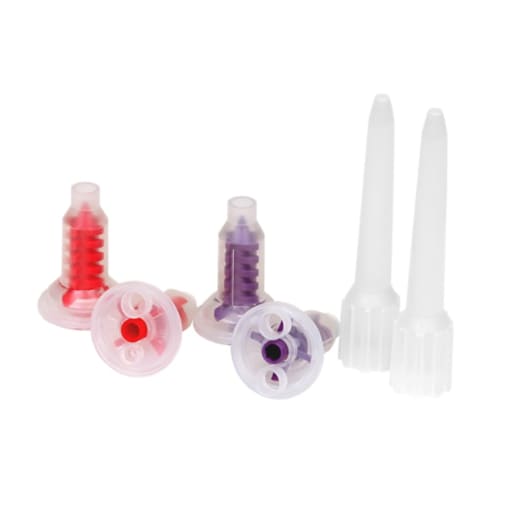 No air is allowed to enter when the filler or glaze and hardener are mixed
Designed for Fast, Accurate Mixing and Application
As an integral part of our Dynamic Mixing System, our 3M™ Dynamic Mixing System Nozzle has been designed specifically for dispensing accurately mixed two-part DMS 1.0 and DMS 1.5 products, including epoxies, fillers, glazes, adhesives and sealers in collision repair. These mixing nozzles completely blend materials according to specified mixing ratios, and clip onto cartridges easily. They remove just as easily for maximum efficiency.
We have designed our Dynamic Mixing System Nozzle to make the application of any DMS product more efficient. Choose a red-colored nozzle (05847) for DMS 1.0 products (fillers and glazes). For DMS 1.5 — adhesives and sealers — choose nozzles with the purple color (55847). Nozzle extensions are available for extruding DMS 1.5 products into hard to reach places.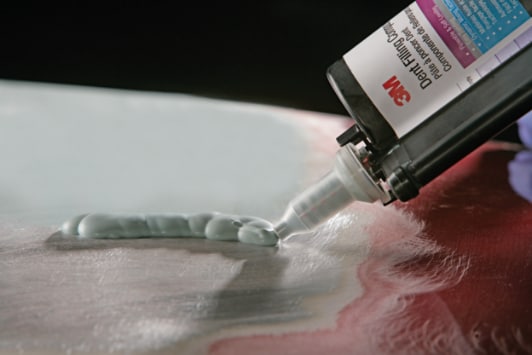 Innovative mixing nozzle prevents over-catalyzation by blending a perfect ratio
About the 3M™ Dynamic Mixing System for Fillers and Glazes
With our Dynamic Mixing System dispenser and mixing nozzles, there is no need to worry about adding too much — or too little — hardener to filler and glazes. Dispense products when and where you want them, at the touch of a trigger. There is no messy mixing process, reduced wasted materials, and reduced time for cleaning up. By utilizing the correct amount of product and reducing consumption, you can save both materials and time.
3M™ Dynamic Mixing System: As Easy as Twist, Mix and Fix
Here is how it works: Twist a cartridge into place on the applicator until it locks into place. For fillers and glazes, attach a red mixing nozzle and mix the two-part component product automatically by simply pulling the trigger on the applicator.
For adhesives and sealers, attach a purple mixing nozzle after equalizing the cartridge. Watch as it mixes and dispenses an accurate ratio of product. Fix, bond or seal instantly by applying the product directly from the applicator to the surface and spread into place.
Learn More about the 3M™ Auto Body Repair Dynamic Mixing System
(PDF, 3.3 Mb)