Required for use with 3M™ Cylinder Adhesive Applicators
Narrow, 2-18 inch width spray pattern for controlled coverage
Supplies uniform coverage and drying times
Easy attachment and removal
Numbered by angle of spray pattern and orifice size
3M™ Cylinder Adhesive Spray Tips control your adhesive output from 2 to 18 inches. Proper spray patterns provide uniform coverage and consistent drying times to help keep projects moving forward.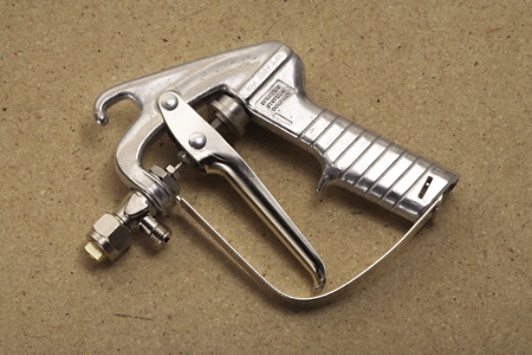 Consistent spray patterns and portable cylinders mean improvements in efficiency and save time and labor costs
Control your Adhesive
3M™ Cylinder Adhesive Spray Tips are an essential part of our cylinder spray adhesive system. Because each cylinder is self-contained, pressurized and ready for immediate use, an optimized spray pattern is achieved through the proper spray tip. Please refer to the table below to determine which spray tip is best for you, or call 1-800-362-3550 to speak with a specialist.
| | | |
| --- | --- | --- |
| Spray Tip | Angle | Spray Pattern Width |
| 9501 | 95° | Wide |
| 6501 | 65° | Medium |
| 4001 | 40° | Narrow |
| QSS* | — | Very Wide |
| 250050 | 25° | Very Narrow |
| 650050 | 65° | Medium |
*For 3M™ HoldFast 70 Spray Adhesive
Learn More about 3M™ Cylinder Spray Adhesives
(PDF, 20.14 Mb)