Variable curing temperature from 250°F (121°C) to 350°F (176°C) helps streamline production
250% expansion rate allows for successful joining of greatly mismatched honeycomb structures
Qualified to multiple aerospace customer specs
Versatile performance and application allows for consolidation and standardization of inventory
Low sag formula helps eliminate rework
We developed 3M™ Scotch-Weld™ Structural Core Splice Film AF 3024 as a low density, thermally expanding core splice adhesive film designed for filling mismatched areas or reinforcing and splicing honeycomb core. With its 250% expansion rate this core splice film can effectively join significantly mismatched honeycomb structures.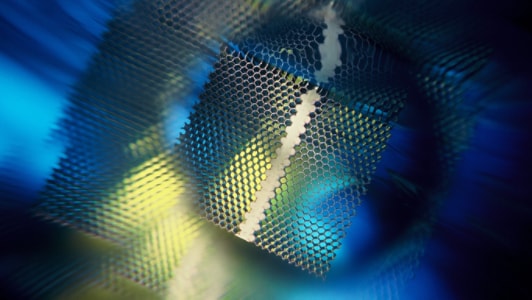 Within the 3M core splice film product family, Scotch-Weld™ AF 3024 has the highest expansion
Ready to Fly
We balance 3M™ Scotch-Weld™ Structural Core Splice Film AF 3024 properties to provide excellent performance with easy-to-use shop handling characteristics. Our heat-curing, easy handling film is designed to meet numerous customer specs in aerospace manufacturing and MRO. Its high expansion (250%) allows for successful joining of significantly mismatched honeycomb structures and its low sag during cure helps eliminate the need for rework.

3M™ Scotch-Weld™ Structural Core Splice Film AF 3024 will cure at a range of temperatures from 250°F (121°C) to 350°F (176°C). This variable cure rate combined with the film's easy handling gives you flexibility to design efficient processes. Even at slow heat up rates as low as .5°F/minute, AF 3024 still reaches full expansion.

Our Best for Your Best
3M is proud to partner with organizations across the spectrum of aerospace and related industries. Creating efficiencies, reducing process times and lowering aircraft weight is how we execute our never-ending mission to offer best-in-class adhesives, sealants and other products that effectively reduce costs on multiple fronts. Professionals across the industry know the cost-saving advantages of 3M Aerospace. Our brand is widely recognized for the highest standards of quality and performance, adding value to the final results. By engineering reliability, longevity and value into all of our products, we have a history of saving money by reducing waste, rework and time.

Learn More about 3M Interior Adhesive Solutions (PDF, 14.96 Mb)
---
Find what you need in our aerospace specification portal.
3M maintaints partnerships with every major aircraft OEM in the world. Find your spec today.
FIND YOUR SPEC