3M™ Softback Sanding Sponge sands hard-to-reach areas on cars, trucks and vans such as around headlight openings, door handles, door jambs and other locations. The soft, flexible foam backing conforms to virtually any profile or shape on a vehicle. These sponges are coated with long-lasting aluminum oxide abrasive.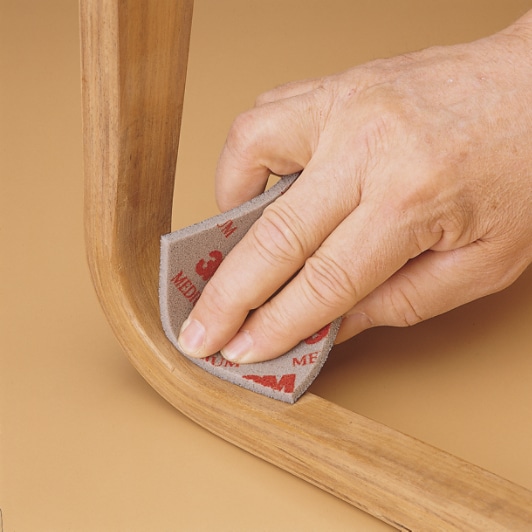 3M™ Softback Sanding Sponge has the ability to conform to most any shape to reach difficult spots
Sanding Sponges for Many Applications
Our 3M Softback Sanding Sponges are highly versatile abrasive products. The sponges have an aluminum oxide mineral coating on a foam pad with a waterproof bonding system, which allows you to use these sponges for both wet and dry sanding, Use these sponges for sanding wood, metal, fiberglass, plastic, gel coats and marine paints. These sponges are especially useful to help eliminate finger marks.
A Variety of Abrasive Grades
These sponges are available in a range of grades, including microfine (grade 1200 to 1500), ultrafine (grade 800 to 1000), superfine (grade 500 to 600), fine (320 to 400) and medium (grade 120 to 180). Each grade uses a range of mineral sizes.
The Reason Why We Chose Aluminum Oxide
Aluminum oxide minerals are a good match for automotive technicians who desire all-purpose versatility and economy. The mineral cuts fast while grinding, blending and deburring. Aluminum oxide is a premium grain with higher fracture strength, meaning the mineral will fragment and renew more readily. Fragmenting continually exposes new, sharp cutting edges as the mineral wears, which maintains the cutting effectiveness and extends the life of the abrasive.
Putting Science to Work for Practical Applications
3M incorporates the science behind abrasives and materials to work for the daily needs of auto body technicians. We've combined self-fracturing aluminum oxide abrasives with a waterproof adhesive to a highly flexible backing to serve the real-world needs of sanding uniquely shaped contours and limited-access locations.