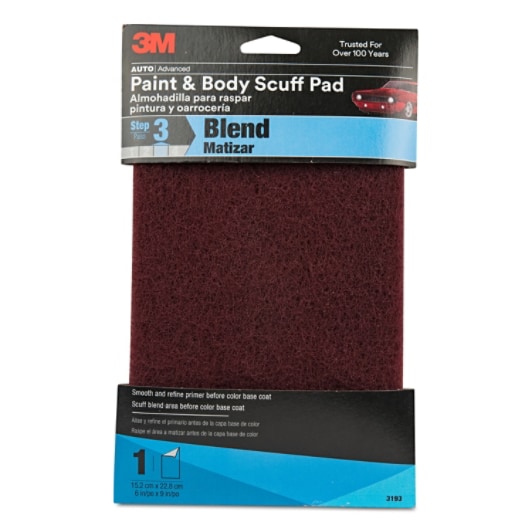 Designed for scuffing base, primed, or painted surfaces prior to applying primer or paint
A Pad Designed Specifically for Scuff Sanding
Ideal for use during Stage 3 of our 3M™ Body Repair System, the 3M™ Paint and Body Fine Scuff Pad is designed for scuffing base, primed, or painted surfaces before base coat and clear coat application. This pad features a durable nylon backing. This non-woven fiber material will not shred, rust or splinter like steel wool can, and is an excellent carrier for our fast-cutting, long-lasting aluminum oxide abrasive. The entire pad is resin coated, so neither the backing nor the abrasive will deposit tiny particles on the surface, helping to ensure a smooth finish. The pad is ideal for scuff sanding, and is also suitable for removing light surface rust. It can be used wet or dry and rinses clean for repeat use.
What is Scuff Sanding?
Instead of sandpaper, which is used for stripping paint or smoothing filler during auto body work, the 3M™ Paint and Body Fine Scuff Pad is designed for scuff sanding — a less aggressive job where instead of sanding down to the bare material, you simply add a "scuff" to the primed or coated surface. This process essentially leaves the surface slightly textured. Scuff sanding is often necessary because most modern base and clear coat paint systems rely on a chemical bond for strength and durability. These systems may not be able to establish this chemical bond with your existing surface. Using the 3M™ Paint and Body Scuff Fine Pad you create a "mechanical" bond — a scuff — which essentially gives the base coat or clear coat paint system a series of edges to adhere to. The end result is a smooth, long-lasting and professional grade finish for your vehicle
About the 3M™ Body Repair System
Even a small repair can seem complex at first. So
3M's Body Repair System
simplifies the entire automotive body repair process by dividing it into four stages:
Stage 1 — Prepare.This stage includes pulling dents, removal of paint and rust and efficient, effective masking of the area.
Stage 2 — Fill.This stage involves patching holes with reinforced filler and smoothing and shaping filler before painting.
Stage 3 — Paint.This stage includes painting the area and blending and smoothing primer and paint.
Stage 4 — Finish. The final stage for showroom-grade results: removing small defects, sealing and polishing clear coats and other painted surfaces.
3M supplies premium products such as abrasives, tapes, body fillers and tools for every stage. This system helps you work easily, efficiently and successfully across the entire body repair process.
The Science of Better Auto Body Work from 3M
We put decades of development into our products for auto care and repair to help save you time and get the most enjoyment and value from the vehicles you own. Our 3M™ Paint and Body Fine Scuff Pad is another great example of how 3M applies science to life — and makes your life easier when it comes to making your vehicle look its best.
Scuffing properties prepare surfaces for better primer and paint adhesion
Abrasive sponge scuffs base, primed, or painted surfaces
Flexible pad is excellent for hard-to-reach areas
Textured material removes light rust from surfaces
Durable nylon will not rust, splinter, or shred like steel wool
Reusable, washable pad rinses clean
For use in Stage 3 of our 3M™ Body Repair System