The Standard Abrasives™ Heavy Duty Hand Pad aggressively cleans, deburrs, and finishes with a medium grade coarse abrasive and a tight, durable pad construction. It leaves a consistent, coarse finish, and is designed for use on metal, composites or plastic surfaces. It can be used wet or dry.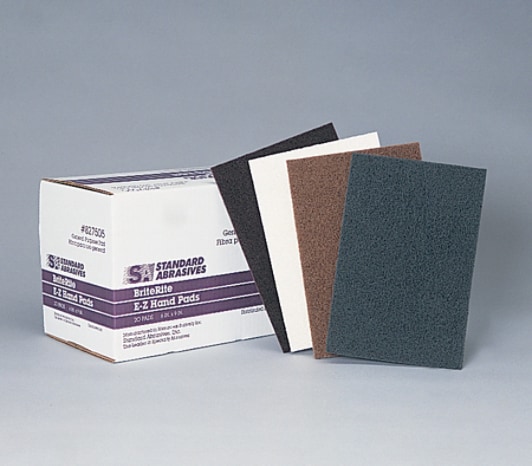 One of 3M's most aggressive and durable hand pads
Recommended Applications
Our tan Standard Abrasives™ Heavy Duty Hand Pad is a tightly constructed non-woven abrasive pad with the flexibility to fully cover contours as well as get into tight corners, ridges, and other uneven surfaces. Excellent for heavy cleaning, deburring, and finishing, this is one of our most aggressive and durable handpads. Use it by hand or with a
hand pad block
.
A Steel Wool Alternative
A Standard Abrasives™ Heavy Duty Hand Pad is a great alternative to steel wool, files, scrapers, wire brushes and sandpaper sheets. The high grade resin system is strong and durable, yet the open web is soft and pliable, too. Nylon fibers on the pad will not splinter, which helps enhance operator comfort and safety. The fibers are interspersed with sharp-cutting aluminum oxide mineral. While nylon fibers break down, fresh mineral is exposed, so the abrasive cuts sharper for longer. As you apply even and persistent pressure, a consistent scratch pattern is revealed. These nonwoven fibers are also spongy and responsive, so they minimize gouging or marring of the workpiece.
Ease of Use
The Standard Abrasives™ Heavy Duty Hand Pad may be used dry, with solvents or with water-based detergents, depending on your application and project needs. Using these compounds may help wash away unwanted swarf and debris while you clean. Moreover, the pad can be washed between uses for repeated use, without rusting. To enhance grip and help reduce operator fatigue, the hand pad can be fastened to a hand pad holder (sold separately). The 6" x 9" pad may also be cut and shaped to fit smaller surface areas if desired.
Quality Standard Abrasives™ Solutions for Industrial Applications
The Standard Abrasives brand has supplied quality abrasives to the metalworking industry for over 50 years. Customers rely on our
broad offering of high performance products
(PDF, 2.9 Mb) including coated, bonded, and non-woven abrasive lines.