3M™ Square Pad 341D was designed to help operators with a variety of metalworking tasks from slab cleaning, weld grinding and deburring to finishing and blending.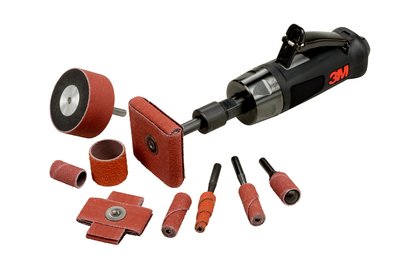 Excellent all-around abrasive built for blending and finishing.
Anatomy of a Square Pad
To construct 3M™ Square Pad 341D we adhere aluminum oxide mineral to an X-weight cloth backing with resin. Each ingredient plays an important role in the abrasive's performance and longevity. The X-weight cloth backing is durable, heavy and won't deflect when in use. It helps the pad aggressively tackle channels, fillet welds and corners. Aluminum oxide mineral delivers a soft scratch pattern that is often desirable for finishing and polishing. Aluminum oxide is a popular mineral choice among industrial professionals because of its fast cut and long life. It's suitable for use on many metals, including softer metals and carbon steel. Aluminum oxide mineral is adhered to the backing in a closed coat construction — meaning the mineral covers 100% of the backing. The greater grain density of this coated abrasive equates to finer finishes.
Tips for Optimal Use
Strips of abrasive material are folded over a metal eyelet to form a square abrasive pad. As the pad rotates, the corners provide fast cutting action, wearing down to expose fresh abrasive mineral. Square pads run smoothly and offer great control and access for corner weld grinding, finishing and cleaning. They are slightly more aggressive than cross pads given their square design, so they're a good choice for tougher grinding and blending applications. The 341D square pads may be used with portable die grinders to facilitate easier and closer access to the workpiece, and the metal eyelet attaches to a mandrel — long or short — enabling the operator to tighten or extend the abrasive's proximity to the part. For added versatility, the pad is available in a range of grades and sizes, so operators can secure a fine or coarse scratch depending on their project needs.
Conquer Corners
Square pads are useful across industries and markets, commonly applied in metalworking and maintenance repair operations. Altogether, their square shape and cushioned pad render them a good abrasive for grinding, blending and finishing flat surfaces, channels and corners. They tackle these unique workpiece contours by cleanly abrading the surface with their square tips. Our 3M™ Square Pad 341D is great to have on hand when you find yourself in a corner.