The Standard Abrasives™ Aluminum Oxide Cross Pad is a multi-purpose abrasive designed for a variety of industrial applications, including blending, deburring, polishing and finishing. The flexibility of the cross pad enables access to holes, recesses, and cylinder walls. Moreover, space between the fingers of the pad helps operators see the workpiece during use.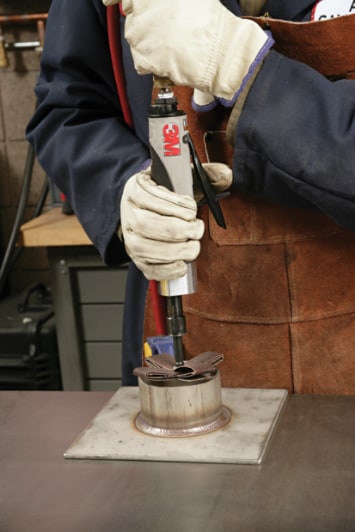 Cross pads are used for close tolerance polishing of small radii and channels, deburring the ends and insides of tubing and other special applications.
Flexible Design, Multiple Uses
The distinctive design of the Standard Abrasives™ Aluminum Oxide Cross Pad enhances its versatility — making it well suited for grinding in hard-to-reach areas, as well as producing a final shine and polish. Strips of abrasive material are folded over an eyelet and intersect to form a cross. As the pad spins inside pipes or tubes, the four spindles rotate to swiftly finish the workpiece. Spindles are springy and buoyant enough to accommodate uniquely shaped parts, without gouging or marring the surface, and the mineral leaves a consistent scratch pattern. Cross Pads are less aggressive than square pads and are generally used for metal finishing tasks. Their small shape makes them ideally suited to get inside tubes and any other internal diameters.
The Standard Abrasives™ Aluminum Oxide Cross Pad is great for finishing and polishing inside and around sharp corners and extrusions, and the mineral cuts aggressively without compromising the geometry of the part. The pad is also good for blending radii and finishing bell-mouth pieces.
A Final Finish, Without the Chatter
The spindles on our Standard Abrasives™ Aluminum Oxide Cross Pad are multiply, containing up to 16 layers of abrasive material. The higher the ply, or "thickness," the more aggressive and durable the pad will be; choose these pads when you're looking to deburr or grind. Lower ply abrasives tend to be more flexible and conform well to the substrate, so choose these pads when polishing or finishing. Altogether, the multi-thickness of the abrasive material acts as an extra cushion — a pillow-like shock absorber that won't vibrate, skid or deflect along the surface. It reduces the likelihood of chatter, which tends to result from too much vibration and frequency between the abrasive, tool and workpiece.
AO Mineral Versatility
Aluminum Oxide (AO) cross pads are a good match for operators who desire all-purpose versatility and economy. AO is a tough mineral that self-fractures to produce a fast cut while grinding, blending and deburring. It can be used on a wide variety of materials including ferrous metals and composites.
Anatomy of a Cross Pad
The cross pad has a metal eyelet that attaches to a mandrel and may be used with a rotary tool. By changing mandrel length, the user may shorten or extend the pad's reach. Standard Abrasives™ Cross Pads are manufactured from a variety of minerals, including Aluminum Oxide, Zirconia, Ceramic and Silicon Carbide (each sold separately). All minerals are securely anchored to the backing with a strong, heat-resistant resin bond. Combining cushion, flexibility and an aggressive cut, these well-rounded abrasive products offer outstanding versatility.
Quality Standard Abrasives™ Solutions for Industrial Applications
The Standard Abrasives™ brand has supplied quality abrasives to the metalworking industry for over 50 years. Customers rely on our broad offering of high performance products including coated, bonded, and non-woven abrasive lines.